If you use SalesForce.com to manage your sales leads and contacts, you'll be thrilled to learn that the Proposal Pack Wizard imports SalesForce.com data. Imagine - no copying and pasting, no retyping and proofreading all those names, phone numbers, and addresses!
When you first launch the Proposal Pack Wizard, the program will walk you through a couple of steps to link to your SalesForce information. From then on, you don't need to log into SalesForce or even have a browser window open when you use Proposal Pack Wizard.
Every time you begin a new project with the Wizard, Proposal Pack Wizard lets you search your SalesForce data for the record you need. Click it, and presto! The Proposal Pack Wizard pulls your contact information into the appropriate fields of letters and other documents that you select for your project. It doesn't get any easier than that!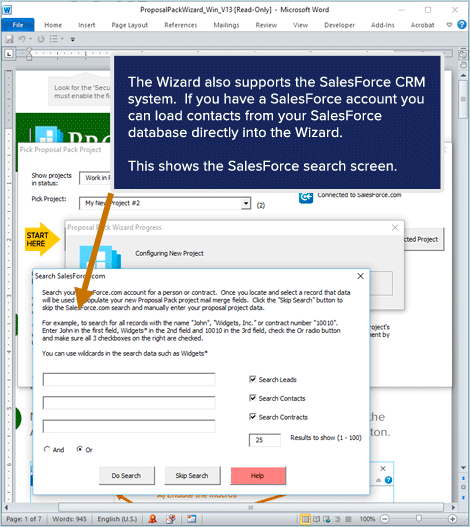 Proposal Pack allows you to create much more than simple price quotes or introduction letters. Proposal Pack includes templates for almost anything you can think of: from simple contracts to feasibility studies to complex project proposals. There are also over 155 sample proposals to give you ideas on how to assemble a professional looking package for your client. Now that it works with SalesForce data, Proposal Pack is one of the best marketing tools you'll ever invest in. Finally! Software that actually makes your work life easier.