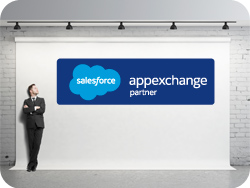 When you first launch the Proposal Pack Wizard, the program will walk you through a couple of steps to link to your SalesForce information. From then on, you don't need to log into SalesForce or even have a browser window open when you use Proposal Pack Wizard.
Every time you begin a new project with the Wizard, Proposal Pack Wizard lets you search your SalesForce data for the record you need. Click it, and presto! The Proposal Pack Wizard pulls your contact information into the appropriate fields of letters and other documents that you select for your project. It doesn't get any easier than that!
Proposal Pack allows you to create much more than simple price quotes or introduction letters. Proposal Pack includes templates for almost anything you can think of: from simple contracts to feasibility studies to complex project proposals. There are also over a hundred sample proposals to give you ideas on how to assemble a professional looking package for your client. Now that it works with SalesForce data, Proposal Pack is one of the best marketing tools you'll ever invest in. Finally! Software that actually makes your work life easier.
Since the Proposal Kit template products and Wizard software create standard Word format documents (which can be saved in other common formats such as Acrobat PDF files) you can upload your final documents back into your SalesForce.com account. This allows you complete flexibility with your proposals and contracts from creation to delivery.
You can even incorporate external data you have stored in your SalesForce.com account or 3rd-party applications into your documents. Any data you can copy data from and paste into a Word document can be easily integrated since you are working directly within your Word software.
The Proposal Pack Wizard even works with international foreign language character sets when importing data from Salesforce.com stored in non-English languages.
SalesForce.com integration requires the 32-bit version of Microsoft Word/Office. If you are using the new 64-bit Microsoft Word/Office, the Proposal Pack Wizard will run but SalesForce.com features will not be available. You must also have a SalesForce.com account that allows API access (such as the SalesForce.com Professional, Enterprise or Ultimate edition).