OPTION #1: Get "Proposal Pack for Any Business"
This is the most brandable pack. Designed for you to brand with your own logos, colors and graphics. If you want a package with logos and colors already added, look below.
OR


OPTION #2: Get a Proposal Pack with a unique graphic logo design
Look through the categories below to see the 250 available logo designs and pick one that works with your company logo and colors (each logo design is sold separately)
Why get the 'for Any Business' versus a graphic logo design pack? The 'for Any Business' version is the most conservative looking design and the easiest to customize. It is the best choice for government proposals, for people who want to do their own custom branding of the documents, and if any of our pre-designed logo packages do not match your company logo and colors.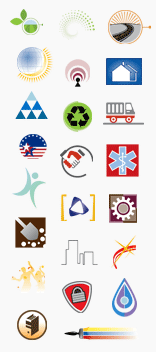 Proposal Pack contains the following:
Proposal and contract creation software
Over 155 complete sample proposals
Over 1250 editable pre-written templates
Over 3700 pages of material
Over 600 eye-catching title page designs
Proposal writing manual
Government RFP writing manual
Everything you need to write any proposal

All of the Proposal Graphics Packs include the same proposal content and sample proposals as the 'Proposal Pack for Any Business'. The only difference between all of the choices is what the graphic logo designs look like.
We have already done the tedious work creating the structure, outlines, layout and graphic design so you can be well on your way to having your proposal completed before you even start.
Honestly, I haven't
found another product that even compares to what the Proposal Kit provides."

Tina Burnett
Thanks for the
great service your company has provided. I had a very important sales proposal to prepare for a realty firm, and was given only a 1-day notice. I purchased and downloaded the sales proposal [Proposal Pack] with the Real Estate design, and it was exactly what I needed. The forms were perfect, and the presentation went great. We were told it was the best she had ever seen. Thanks for a great product, and for providing it in a pinch!"

Kevin Onizuk
Breakwater Mortgage Corp.