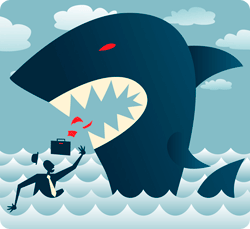 Is your business frequently losing out to competitors? Does your slice of the marketing pie seem to be growing smaller each year? You probably need to think about how you can automate and optimize your business practices.
The word "automation" frequently brings to mind robots replacing humans in a factory setting. So unless your business is turning out thousands of widgets on a daily basis, you may believe that the topic of automation doesn't pertain to you. You're wrong about that.
When you consider automation, expand your thinking to include any use of the latest technologies that would make your business more efficient. Automation can increase productivity, reduce labor costs, reduce payroll overhead by using fewer staff or replacing expensive specialized positions with lower cost positions. Automation can also ensure quality, consistency, and predictability through using standardized processes.
Companies that fail to streamline and automate usually can't grow or survive when competition appears and drives down prices and reduces profit margins. They find themselves in trouble when the market turns sour and their profits fall while their costs remain high.
Before this happens to your company, take a good hard look at your business practices from start to finish. Make a list of all the products or services you provide. List and describe your customers. Do you have agreements with other organizations that provide components for your business? How do your customers and partners find you? How do you communicate with them? What do they want and expect from you? How do you manage your inventory? How do you advertise to your existing customers, and how do you market to potential clients? How do you manage your financials?
Be as analytical as possible. What methods do you use to create your products or develop your services? How do your products or services compare to your competitors? How do your business practices compare to theirs? Is your organization less efficient in its interactions with the marketplace? Are you running to the store every time you run out of a single item?
Don't forget to analyze everything that goes on inside your business, too. For example, how do your executives and employees communicate on a daily basis? How do you measure productivity and track sales? How do you account for all your income and expenses?
If you are not familiar with every aspect of your business, you may want to interview other employees to gather information about existing problems and solicit their suggestions on how processes might be improved.
After you have a thorough understanding of all the current processes within your organization, you have a lot of areas to consider about how you might modernize. Can you take advantage of a new technology to make a process faster or more efficient? For example, many field workers now file daily reports on handheld devices such as smart phones or tablet computers that they carry with them from job to job. This eliminates the need for those employees to travel from field to office to complete their work, as well as giving the office staff and executives an up-to-date summary of all the work accomplished each day.
With linked hi-tech networks, many computerized devices can deliver their own reports at regular intervals, as well as sound the alarm when there's a breakdown, send messages to human minders that parts or supplies need to be replaced, and so forth. This is much more efficient than employing someone to run around and constantly check gauges and supplies.
Consider moving some practices out of the office and putting them online. A good, thorough website can answer many questions and reduce the number of phone calls that an employee needs to handle. Developing an online catalog with detailed descriptions of products and services might win you many new customers. An automated online ordering and tracking system could save your organization a lot of money in personnel costs, and can help you efficiently fill orders. Even using simple barcodes and scanners can highlight buying and shipping patterns you might not have noticed, and make inventory control and tracking easy.
Be sure to look at every process within your business. You may find you need to invest in a new computer system linked to smart devices like phones or tablets. You might want to develop more streamlined internal forms that feed information directly into a central database, which in turn automatically produces reports for the departments that need them. You can also streamline personal habits such as shopping online and having supplies delivered instead of leaving the office, driving to stores and disrupting your workday.
You may need to outsource certain tasks that are not cost-efficient to automate within your company, or take advantage of new specialized technologies like 3-D printing. These days you can even automate advertising on the internet through online scheduling and targeting programs.
When you have developed a roadmap of how you might optimize your practices to position your business for the future, you should write a proposal or a feasibility study to describe your ideas to others in your organization. If you are not the head of the company, this could get you a promotion for being forward thinking.
If you are writing an internal company proposal, you'll want to explain what changes the organization should make and why, how much these changes will cost, and how these changes will benefit the company. Be as specific as possible, and include all the facts and figures you have accumulated.
If you are writing a feasibility study, you may want to compare various options (including the option of not making any changes), present all the benefits and costs of each, and then leave the final decision up to others.
Just like every other process you have analyzed, you should consider how to optimize the task of creating business documents like proposals, studies, and reports. It is inefficient to start from scratch when there are professional packages like Proposal Kit available. This product includes thousands of professionally designed templates with examples and instructions on each page, as well as sample proposals, studies, and reports you can page through to get ideas. And Proposal Kit includes wizard software that helps you easily assemble any sort of proposal or report. It's an excellent, affordable all-around product that can help any employee produce a professional document efficiently.