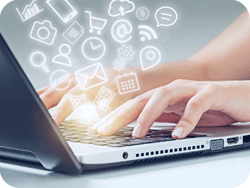 The answer to both these questions is a resounding "Yes!" Scroll through the list of the thousands of templates included in Proposal Kit, and you'll see documents you can use in business plans, resumes, reports, grants, contracts, feasibility studies, government contracts, case studies, project quotes and bids - you name it; it's in there.
Say, for example, that you're opening a small gym and you want to tell your local community about your facilities and the classes you plan to offer. You'll find templates in Proposal Kit for describing types of memberships, describing facilities, listing classes, and more. You can easily produce a simple single-page flier, a price list, or a whole packet of information.
Or maybe you work in a scientific field where you need to conduct experiments, perform analyses, and write up conclusions, including statistics, charts and graphs. You may need to put together a report with appropriate citations and so forth. Templates for all those uses are included in Proposal Kit, too.
Perhaps you've been tasked with writing applications for grants or putting together a loan application, and you never really thought of those sorts of requests as proposals. But they are, in that you need to explain all the things your organization proposes to accomplish in exchange for receiving funding. Proposal Kit is not just for business needs or for selling products. Nonprofit organizations will find all the pages they need there, too.
The longer and more complicated the document you need to create is, the more you will appreciate Proposal Kit's features. It allows you to easily assemble templates (thousands, if you need that many) and structure them into an organized, professional-looking, easy to read package to present to a perspective client or donor.
All the templates include suggestions and examples of the types of information you might want to include. You get a jump start by using these templates because we've already done a lot of the thinking for you. You'll find yourself reading the suggestions and thinking, "Oh, yeah, I need to include this data and that piece of information - thanks for reminding me!" or "Oh, I was thinking I'd structure this page this way, but that suggestion makes more logical sense." Just by reading down the list of included templates, you'll probably find a few pages that you hadn't yet put on your list but that should be included in your proposal, application, or report.
Keep in mind that the majority of the text on most template pages is designed be replaced, so you can customize each page in your document to be exactly what you need it to be. The whole product is endlessly flexible and customizable, because we want to make it easy for you to create not a carbon copy of our ideas, but a document that represents your organization and meets the needs of the project you're working on.
We give you a standardized structure and tips to help you along the way. Odds are that by starting with Proposal Kit's templates, you will end up assembling a more thorough, thoughtful, and organized quote, report, or study than you would have if you started from scratch. And with our graphic designs, your finished package will look professional, too.
It's true that we started Proposal Kit with the goal of making it easy for anyone, from a sole proprietor to a proposal writer inside a big company, to create proposals. Over the last two decades we have expanded the products to cover a much broader range of business situations and nonprofit projects. Even community activists and hobbyists and a variety of clubs find the templates useful. Now, by including so many different templates for so many different purposes, we've made it easy for any individual or organization to put together almost any type of document package.
There's also a collection of over a hundred samples that we've labeled "Sample Proposals" for simplicity's sake. But they're not just samples of business proposals. The samples will assist with your proposal writing, grants, business plans, studies, and so forth by giving you ideas on how to get started, showing pages to include, and demonstrating ways to sell yourself or your organization or your ideas to your readers. Perusing the samples will spark your imagination, show you a variety of document structures, and remind you of the information you need to include in your writing projects.
So be sure to check out the sample list - you'll find that as well as giving you sample proposals of all kinds, we provide samples of contracts, resumes, feasibility and case studies and many other documents created with Proposal Kit. You'll be surprised by the variety in style, tone, and types of documents included among the samples, and you'll find yourself imagining all sorts of new ways you can use the product.
Proposal Kit is great for creating
General business proposals
Federal grant applications
Local government grant applications
Government (GSA) contracts
Educational proposals
Technical proposals
Non-technical proposals
Product sales proposals
Event descriptions
Services proposals
Project proposals
Research proposals
Business documents
Grant funding proposals
Sales letters
Business plan funding
Book publishing proposals
Letter proposals
Resumes
Advertising flyers
Contracts
Estimates
Invoices
Price quotes
Project bids
Plans to buy or sell a business
Request for proposals
RFP responses
Multilingual proposals
Complex reports
Feasibility studies
Annual reports
Amenities packets
Information packets
So don't get stuck thinking that Proposal Kit is only for proposals, or only for use by marketing departments or sole proprietors selling products or services. No matter whether you are running a small business or managing a team inside a large corporation; no matter what sort of business documents you need to write; Proposal Kit will make all your writing tasks easier.