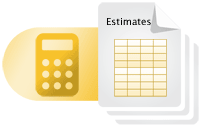 Estimate Pack is a set of pre-designed spreadsheets for estimating a variety of projects. Our template collection has been designed by and for web, computer and other technology professionals. These materials are used by the various multimedia professionals who created them, plus we have had new materials created by special request. The collection as a whole will meet many of your needs. The spreadsheets are designed to facilitate fast and easy calculations for project estimates. These estimates can then be fine tuned over time to become more and more accurate.
Every web, computer and other technology professional has their own unique combination of skills, experience, overhead and value added benefits. Enter your own hourly rate and estimates for various components of a project, and then adjust the final estimate based on your own unique situation. Supports many platforms such as Microsoft Windows, Mac, Linux, Microsoft Word & Microsoft Office, OpenOffice, StarOffice, Word Perfect, Google Docs, iWork, Pages, Numbers and Appleworks.
Once you have interviewed the prospect and have a clear design, you will have a list of all of the components needed to create your project. The spreadsheets are designed to plug in your own rates along with the costs and quantities of each component of the project, including commonly overlooked hidden costs. Our web, CD-ROM/DVD, video and general project estimate spreadsheets will calculate three different payment plans to choose from. The calculations can be plugged into the Contract Pack payment plan documents.
After each project, use the Per Page Average spreadsheet to calculate how much you over or underestimated the project. Then edit your estimate spreadsheet for the next project to account for the difference. For example, if the page creation took longer than expected increase, your time per page accordingly so the next estimate will be closer to the actual time. Estimate Pack spreadsheets can be used by themselves or with our proposal, contract and web planning materials.