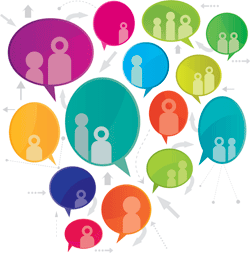 We've all seen community education classes. Writers' conferences are filled with presentations by authors and booksellers and editors. Home stores regularly hold classes on how to lay tile or paint an interior room. Medical conferences have lectures by researchers and pharmaceutical marketers. Plant nurseries host workshops on creating Christmas wreaths or succulent bowls. Art supply stores and craft stores have classes on using various materials in artistic ways. You have probably received catalogs of community education classes from colleges or senior centers, or you might belong to a club that regularly hosts speakers. All these organizations welcome experts who want to come and share their knowledge.
The list of possibilities is pretty much endless. If your business does graphic design, consider holding a short workshop on how to use colors for emotional impact or how to choose the best fonts for print or online use.
If you run a home remodeling business, you could hold a class on planning a kitchen update, demonstrate how to draw a basic blueprint to scale for a contractor, or discuss how to evaluate new fixtures for durability or energy efficiency. If you run an investment business, hold a session on how to plan for retirement or college expenses. Develop websites? List and discuss all the elements people should consider when creating a website, and compare and contrast existing websites for their effectiveness. Are you an accountant? You might give a class on basic bookkeeping, or on how to set up a spreadsheet you keep track of expenses. Are you in the catering business? Teach how to make a healthy vegetarian dish, or talk about how to use spices in recipes. Do you sell clothing and accessories? Give a class on choosing appropriate styles for all body shapes or 10 ways to tie a scarf, and the audience will come.
There's no need to give away all your secrets. The idea is to share a little bit of your knowledge with the audience. They'll come away with appreciation for your expertise, and remember your name as the one to turn to for help in that area. For example, an editor giving a class on basic proofreading is not creating competition that will take business away, but will more likely create new clients because her audience will come to realize how challenging and time-consuming editing can be, learn new appreciation for her skills, and be more willing to pay for an expert to take on the task.
Many businesses have also found that running workshops is a profitable endeavor in itself. Many photographers run paid workshops teaching amateur shooters as well as other professionals. General contractors can teach paid workshops to do-it-yourselfers.
Target your workshop to the group that would most likely contain new customers for your business. For example, people contemplating starting their own businesses need to educate themselves about how to get funding, how to advertise, how to keep their books and pay their taxes, about the regulations they must obey, and so forth - so wannabe entrepreneurs are a big group for banks, marketing firms, accountants, and attorneys to market to. So are new and prospective homeowners, new parents, and many other groups.
Don't be afraid to partner up with another complimentary business to offer a workshop, too. For example, a landscape designer might partner with a nursery owner to talk about how to create a perfect shade garden; a hairdresser could team up with a cosmetics expert to offer makeover tips; a personal trainer with a nutritionist to present a class on how to get in shape for summer.
How should you go about offering a workshop? You could always lease a space, hire caterers, and do all the advertising yourself, but that's usually not the best route to take, unless you are marketing to rich clientele who expect elegant presentations. Ideally, you want to offer a workshop at a venue that will help you advertise and present your class. Many community organizations are eager to partner with good presenters to create an event that will benefit the audience, the presenters, and the event hosts.
Community colleges and local clubs are always looking for ideas for continuing education classes. So are all kinds of business conferences. (Keep in mind that well established conferences often finalize their speaker schedules more than a year in advance.) Even libraries and local retail businesses are often looking for ideas for events. It's fine to first casually discuss an idea with the local head of the organization to judge their willingness to participate. However, chances are that if you want the organization to host your class, advertise the event, and encourage their clientele to come, you'll probably need to write a proposal to explain what you have in mind.
A workshop proposal needs to be only as sophisticated as the organization you are pitching your ideas to, but every proposal needs to contain some necessary information.
Here are the basic elements:
A catchy title (e.g., "When Can You Afford to Retire?" or "Update Your Home Decor without Breaking the Bank") and brief description of your proposed class
A description of the audience you're targeting and why they would be interested
An explanation of how holding the event can benefit the organization providing space and advertising
A list of all the topics you plan to present and activities you plan to do
The duration of the class (most likely two to three hours)
A recommendation for the best dates, days, or times to hold the event
A list of requirements (if any) for the class, such as desks, notebooks, laptops, work smocks, gloves, etc.; whatever the attendees need to bring to the class to participate
A description of fees for participation, such as class fees or supply fees
A description of any items the audience will take away from the class (handouts, a piece of jewelry created in class, etc.)
An explanation of why you are the perfect person to teach this class
All your contact information as well as a "call to action" asking for the reader to respond to your proposal within a certain time frame
If the list above has you staring at your word processing screen with trepidation, you should also know that help is available in the form of specialized packages like Proposal Kit, which comes with all the topic templates you need to describe any presentation, as well as an extensive library of sample proposals you can study for inspiration. Whether you're writing your first proposal or planning to write dozens, Proposal Kit is a good investment for anyone who wants to market and grow a business. It's also an excellent product for creating grant applications, and writing reports, studies, and all kinds of basic business documents, too.

Proposal Pack for Any Business covers this type of proposal and includes samples. There are also some commonly used specialty design themes available:
Photo Design Proposal Packs
So - what sort of information are you ready to share? Write that proposal! Odds are good that you'll find an audience is eagerly waiting to hear your ideas and take your business card for future reference.