This document is included in Estimate Pack which is only available as part of the Proposal Kit Professional bundle.
Order and download for $199.

DOWNLOADABLE, ONE-TIME COST, NO SUBSCRIPTION FEES

View Worksheet Sample
This spreadsheet is used to calculate the estimate for printing project such as printing brochures, flyers, business cards, etc.
on the Estimate Pack for providing comprehensive bids and breakdowns for each potential customer."
Brian S.
Simco Media
The actual document is delivered in the retail products as an editable template.
Produced by:
Proposal Kit
Category:
Software › Computer Software › Business & Productivity Software

4.9 stars, based on over
700 reviews
Category: Project Estimate Spreadsheets
This spreadsheet is used to calculate the estimate for printing project such as printing brochures, flyers, business cards, etc.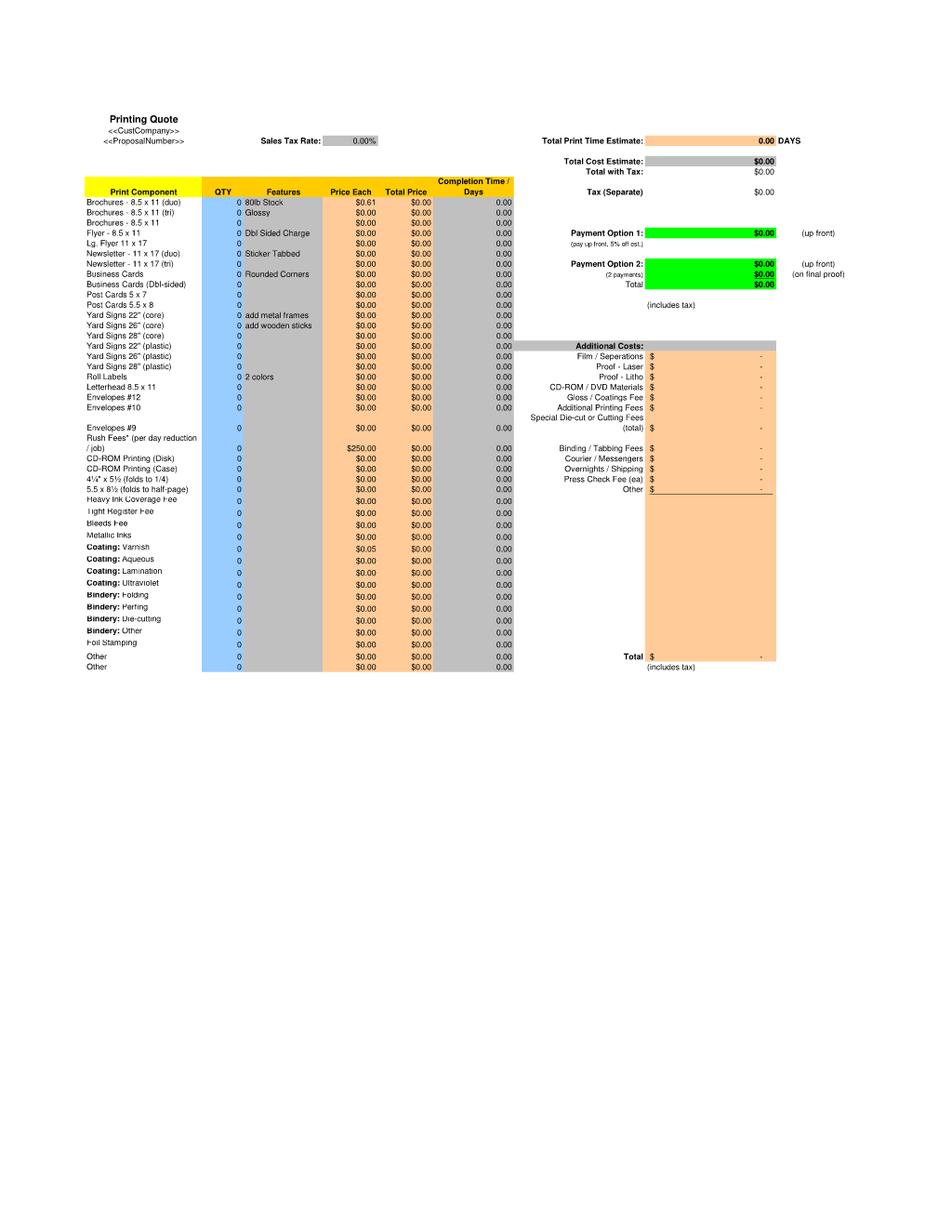 The Estimate Pack suite of templates compliments the proposal and contract documents by giving you a collection of project estimating spreadsheets to be used to help estimate the time requirements and costs of a project.

A wide variety of documents are included and are intended to be picked based on your needs. All projects are different and have different needs and goals. Pick the collection of documents from our collection and use them as needed for your project. Recommendations and samples provided are only intended as general guidelines.
How do you write a Printer Project Estimate Spreadsheet?
Printing Quote CustCompany ProposalNumber Sales Tax Rate Total Print Time Estimate DAYS Total Cost Estimate Total with Tax Print Component QTY Features Price Each Total Price Completion Time Days Tax Separate Brochures duo 80lb Stock Brochures tri Glossy Brochures Flyer Dbl Sided Charge Payment Option front Flyer pay front off est Newsletter duo Sticker Tabbed Newsletter tri Payment Option front Business Cards Rounded Corners payments final proof Business Cards Dbl sided Total Post Cards Post Cards includes tax Yard Signs core add metal frames Yard Signs core add wooden sticks Yard Signs core Yard Signs plastic Additional Costs Yard Signs plastic Film Seperations Yard Signs plastic Proof Laser Roll Labels colors Proof Litho Letterhead ROM DVD Materials Envelopes Gloss Coatings Fee Envelopes Additional Printing Fees Envelopes Special Die cut Cutting Fees total Rush Fees per day reduction job Binding Tabbing Fees ROM Printing Disk Courier Messengers ROM Printing Case Overnights Shipping folds Press Check Fee folds half page Other Heavy Ink Coverage Fee Tight Register Fee Bleeds Fee Metallic Inks Coating Varnish Coating Aqueous Coating Lamination Coating Ultraviolet Bindery Folding Bindery Perfing Bindery Die cutting Bindery Other Foil Stamping Other Total Other includes tax.

A Spreadsheet from Proposal Kit Professional

The editable Printer Project Estimate Spreadsheet - complete with the actual formatting and layout is available in the retail Proposal Kit Professional.