This document is included in Estimate Pack which is only available as part of the Proposal Kit Professional bundle.
Order and download for $199.

View Worksheet Sample
This spreadsheet is used to calculate the estimate for wedding planning services.
on the Estimate Pack for providing comprehensive bids and breakdowns for each potential customer."
Brian S.
Simco Media
The actual document is delivered in the retail products as an editable template.
Produced by:
Proposal Kit
Category:
Software > Computer Software > Business & Productivity Software

4.9 stars, based on over
700 reviews
Category: Project Estimate Spreadsheets
This spreadsheet is used to calculate the estimate for wedding planning services.
Related documents may be used in conjunction with this document depending on your situation. Many related documents are intended for use as part of a project management system.

Related Documents: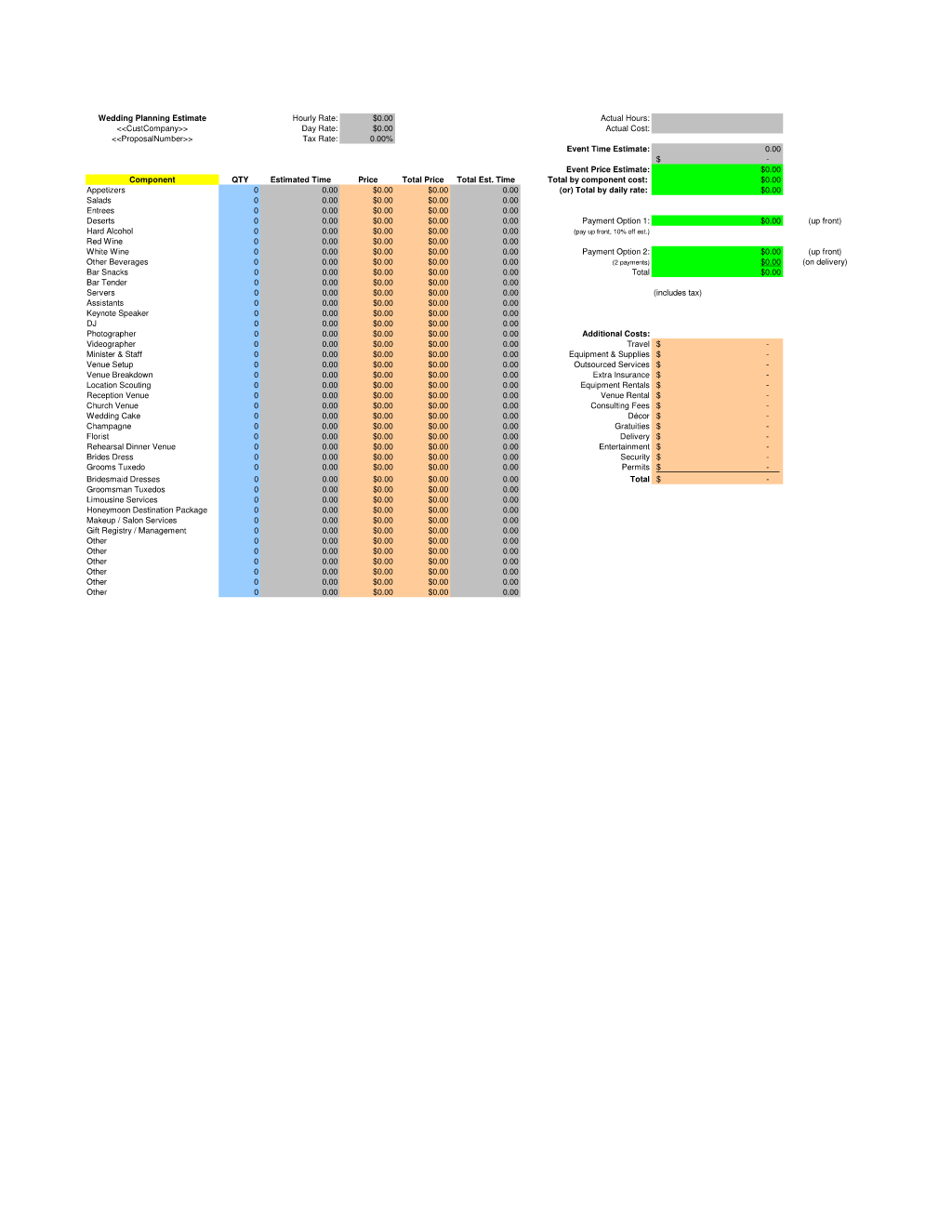 The Estimate Pack suite of templates compliments the proposal and contract documents by giving you a collection of project estimating spreadsheets to be used to help estimate the time requirements and costs of a project.

A wide variety of documents are included and are intended to be picked based on your needs. All projects are different and have different needs and goals. Pick the collection of documents from our collection and use them as needed for your project. Recommendations and samples provided are only intended as general guidelines.
How to write my Wedding Planner Estimate Spreadsheet
Wedding Planning Estimate Hourly Rate Actual Hours CustCompany Day Rate Actual Cost ProposalNumber Tax Rate Event Time Estimate Event Price Estimate Component QTY Estimated Time Price Total Price Total Est Time Total component cost. Appetizers Total daily rate Salads Entrees Deserts Payment Option front Hard Alcohol pay front off est Red Wine White Wine Payment Option front Other Beverages payments delivery Bar Snacks Total Bar Tender Servers includes tax Assistants Keynote Speaker Photographer Additional Costs Videographer Travel Minister Staff Equipment Supplies Venue Setup Outsourced Services Venue Breakdown Extra Insurance Location Scouting Equipment Rentals Reception Venue Venue Rental Church Venue Consulting Fees Wedding Cake cor Champagne Gratuities Florist Delivery Rehearsal Dinner Venue Entertainment Brides Dress Security Grooms Tuxedo Permits Bridesmaid Dresses Total Groomsman Tuxedos Limousine Services Honeymoon Destination Package Makeup Salon Services Gift Registry Management Other Other Other Other Other Other

A Spreadsheet from Proposal Kit Professional

The editable Wedding Planner Estimate Spreadsheet - complete with the actual formatting and layout is available in the retail Proposal Kit Professional.