This document is included in Estimate Pack which is only available as part of the Proposal Kit Professional bundle.
Order and download for $199.

DOWNLOADABLE, ONE-TIME COST, NO SUBSCRIPTION FEES

View Worksheet Sample
Use the Work Order (without Deposit) Calculator spreadsheet to help calculate the costs of a project.
on the Estimate Pack for providing comprehensive bids and breakdowns for each potential customer."
Brian S.
Simco Media
The actual document is delivered in the retail products as an editable template.
Produced by:
Proposal Kit
Category:
Software › Computer Software › Business & Productivity Software

4.9 stars, based on over
700 reviews
Category: Financial Spreadsheets
Use the Work Order (without Deposit) Calculator spreadsheet to help calculate the costs of a project.
Alternate documents are those which may be used instead of this document depending on your situation. Alternate documents may be better suited for different size projects, more specialized projects, etc.

Alternate Documents:
Related documents may be used in conjunction with this document depending on your situation. Many related documents are intended for use as part of a project management system.

Related Documents: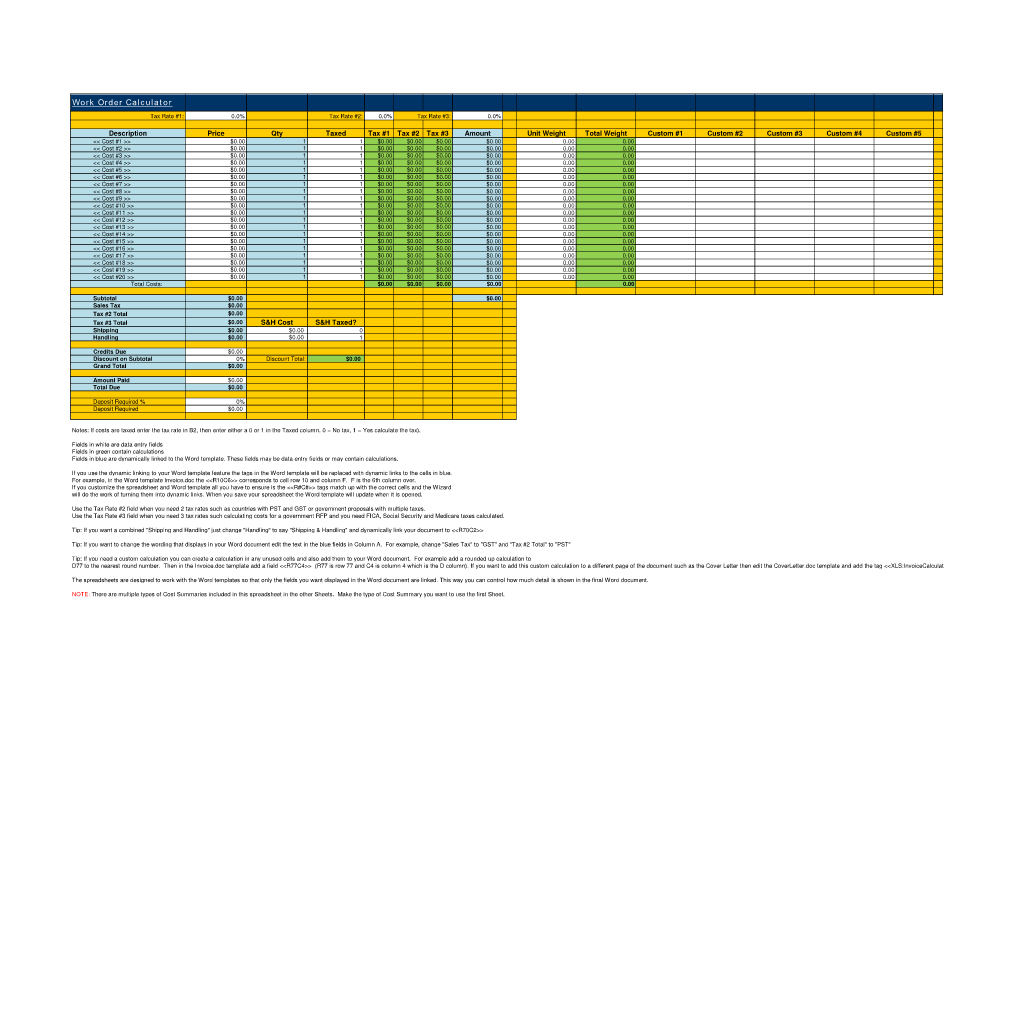 The Estimate Pack suite of templates compliments the proposal and contract documents by giving you a collection of project estimating spreadsheets to be used to help estimate the time requirements and costs of a project.

A wide variety of documents are included and are intended to be picked based on your needs. All projects are different and have different needs and goals. Pick the collection of documents from our collection and use them as needed for your project. Recommendations and samples provided are only intended as general guidelines.
Writing the Work Order (without Deposit) Calculator
Work Order Calculator Tax Rate Tax Rate Tax Rate Description Price Qty Taxed Tax Tax Tax Amount Unit Weight Total Weight Custom Custom Custom Custom Custom. Cost Cost Cost Cost Cost Cost Cost Cost Cost Cost Cost Cost Cost Cost Cost Cost Cost Cost Cost Cost Total Costs Subtotal Sales Tax Tax Total Tax Total Cost Taxed Shipping Handling Credits Due Discount Subtotal Discount Total Grand Total Amount Paid Total Due Deposit Required Deposit Required Notes costs are taxed enter the tax rate then enter either the Taxed column tax Yes calculate the tax. Fields white are data entry fields Fields green contain calculations Fields blue are dynamically linked the Word template These fields may data entry fields may contain calculations. you use the dynamic linking your Word template feature the tags the Word template will replaced with dynamic links the cells blue. For example the Word template Invoice doc the R10C6 corresponds cell row and column the 6th column over. you customize the spreadsheet and Word template all you have ensure the tags match with the correct cells and the Wizard. will the work turning them into dynamic links When you save your spreadsheet the Word template will update when opened. Use the Tax Rate field when you need tax rates such countries with PST and GST government proposals with multiple taxes. Use the Tax Rate field when you need tax rates such calculating costs for government RFP and you need FICA Social Security and Medicare taxes calculated. Tip you want combined Shipping and Handling just change Handling say Shipping Handling and dynamically link your document R70C2. Tip you want change the wording that displays your Word document edit the text the blue fields Column For example change Sales Tax GST and Tax Total PST. Tip you need custom calculation you can create calculation any unused cells and also add them your Word document For example add rounded calculation. D77 the nearest round number Then the Invoice doc template add field R77C4 R77 row and column which the column you want add this custom calculation different page the document such the Cover Letter then edit the CoverLetter doc template and add the tag XLS InvoiceCalculat. The spreadsheets are designed work with the Word templates that only the fields you want displayed the Word document are linked This way you can control how much detail shown the final Word document. NOTE There are multiple types Cost Summaries included this spreadsheet the other Sheets Make the type Cost Summary you want use the first Sheet.

A Spreadsheet from Proposal Kit Professional

The editable Work Order (without Deposit) Calculator - complete with the actual formatting and layout is available in the retail Proposal Kit Professional.