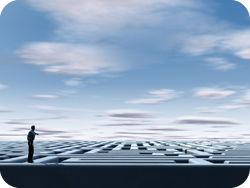 In the organization phase, there are many questions that must be answered. These are all discussed below.
1. Who is the audience?
Sometimes, as in the case of answering an RFP (Request for Proposal) or applying for a grant from a specific committee, you have a very precise idea of who will read and judge your writing. In other cases, such as writing a report or a proposal for a product or service, you may need to gather information about the audience you will write for. Who are they? What do they already know? What do they need? What do they want to know?
You might need to do some research to get this information. If you are working inside a big organization, question the marketing and customer service departments to find out what they already know. If you're writing a proposal, it might make sense to talk to the prospective clients or recipients of your proposal so you can be sure you understand their perspective.
2. What is the objective?
What do you plan to accomplish with the writing project? If you're writing a business proposal, your goal is usually to pitch products or services to a customer. Project proposals are usually written to get a project approved by your company or client. If you're writing instructions for users or if you're working on a public service campaign, your goal is to provide information the readers need. If you're writing a report, your objective is usually to document the methodology of a research project and explain its results. In any writing project, you always need to keep your objective in mind so that you don't waste time on tangents that may be distracting and don't add value.
3. What are you promising to deliver?
Are you describing a need and explaining how you will fill that need? Are you providing instructions for using a product? Are you describing all the aspects of a proposed business venture and providing statistics to show why it's a good investment? Are you comparing alternatives so your readers can make the best choice? Make sure you understand all the elements your writing project must include. If you are not familiar with the type of writing project you have been assigned, you may want to start by looking for samples of that sort of document to see what they typically include.
If you are pitching products or services, check competitors' web sites and marketing information, too, so that you'll be sure to include all the information they do. If you are responding to an RFP, make sure to read all the instructions carefully to understand what you must provide and the format in which you must deliver it. If you have not been given a list of contents for your writing project, make an outline for your project and get your manager and other team members to sign off on it, and decide whether you need to deliver a printed document, a PDF file, or both.
4. What resources do you have to work with?
Your organization probably already has existing web site content, brochures, or other advertising or information content. If you're describing a not-yet-developed product, you most likely have access to a white paper, specifications, or other descriptions. Proposing a new business venture? You should have statistics and financial information. Don't forget that many of your resources may also be people who have information you need.
5. What tools or supplies do you need?
For most writing projects, the basic requirements will be a word processing program on your computer, but in some cases you may need more components, such as photos or charts to include. Make sure you have them in hand or know where and when you can get them before starting your project.
You may also want to invest in business packages that can help you with your writing project. Proposal Kit is one such package you should consider: the product is specially designed for writing proposals, business plans, reports, as well as other general business documents. The Proposal Kit package contains thousands of templates with extensive examples and instructions to guide you, as well as detailed sample proposals and reports for you to study. All the Proposal Kit templates are professionally designed, too, so the finished pages will be visually appealing or you can customize them with your own company logo and design theme. And the templates work with basic word processing software, so using it will speed up your project instead of inserting a big learning curve into your schedule.
6. What's the schedule?
If you are responding to an RFP, writing a grant application, or proposing a project to a potential client, you will have a very specific deadline to aim for. Make a schedule for your writing project. If others are providing information or producing parts of your project, assign one person as the project leader, and make sure all participants agree to meet their assigned deadlines well before the final delivery date of the whole project. Be sure to allow time for editors or other team members to review the writing in each section, as well as time to make changes and incorporate new information.
At the high end, large companies have entire teams of people working for months on a proposal for multi-million or billion dollar proposals. Most groups spend days or weeks preparing proposals in small groups. Many small businesses have a single person responsible for writing proposals. Small businesses are also more likely to be the ones who's schedule is "tomorrow" or over the weekend on short notice. The shorter your schedule the better off you will be starting with a ready-made proposal writing package such as a Proposal Kit and doing it yourself. If your idea is to hire a proposal writer be aware that many professional writers will reject clients who are not already organized or who have very short deadlines.
Don't forget the delivery stage of the writing project. If you are delivering a printed document or a PDF that must be included in a software package, you may need to schedule time to produce and deliver the final format. Make sure you have people assigned to complete every phase of the writing project.
Now the writing begins...
After you have answered all the questions discussed above and completed any advance research you need to do, you're ready to sit down at the computer and write. With good organization and a well thought out plan in place, you should be able to efficiently fill in the outline for your proposal , business plan or report or provide all the information required for your RFP or funding application. You'll look like an expert when you deliver your writing project on time in a thoroughly professional manner.