Special Offer:
Get your choice of any one of these hundreds of Proposal Packs free with the
Proposal Kit Professional
bundle. Add both the Proposal Kit Professional and your choice of Proposal Pack logo design to your shopping cart for this limited time offer. The Professional bundle gives you the most content and the Expert Edition software.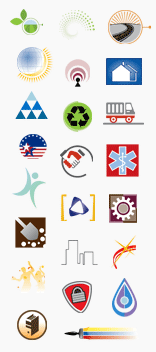 Think of your proposal, business plan or other type of business document as a long letter you're going to write. The contents of that letter are all the words you will write and any graphics you will include. In other words, the content of your proposal is all the information you put into it.
Simply put, you get all the topic pages - the library of business proposal templates - you need for all that information with any Proposal Pack. It doesn't matter what sort of business you're in - the same collection of topic pages (templates) is in every Proposal Pack. We include topics for all types of industries to ensure everyone gets the specialty topics and information that apply to their market or industry.
By giving you all of the specialty material for all types of businesses in a single package it greatly simplifies the decision of which Proposal Pack to get because they will all work. You do not have to wonder what pack to get if you are a security company, accountant, IT professional, real estate developer, contractor, medical professional, and scores of other types of businesses. You are covered with the content no matter which Proposal Pack you choose.
Think of the different designs of the various Proposal Packs as the stationery on which you want to print your letter. Do you want a colorful flowery look or a heavier industrial look to your letter? Do you want a specialty look that more closely matches your industry such as real estate, healthcare, security, etc.? Choose a Proposal Pack as if you're choosing a pack of stationery on which to print your letter. You want a design that best represents you and will appeal to your reader.
So remember, all the Proposal Packs have the same content - the same samples, the same collections of topic pages, but each has a different "look" to the pages.
Most established companies want to completely brand their documents with their own company logo and colors. If that's true for you, the best Proposal Pack to pick is usually the simplest theme:
'Proposal Pack for Any Business'.