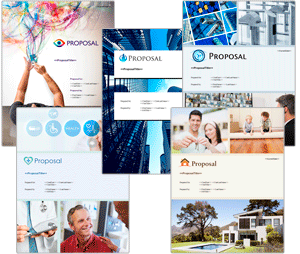 If you've never crafted a formal project proposal or created a contract for your organization, then this product will get you started doing just that, and you'll find that Proposal Kit makes the process fast and easy. Proposal Kit Professional pretty much includes every possible proposal and contract template and estimate document you could need for your business.
Whether you are a web site developer, internet service provider (ISP), CD-ROM or DVD producer, graphic designer, computer programmer or any other type of technology-related business, Proposal Kit has something for everyone. It's not just for high-tech businesses, either, although that sort of enterprise is where my imagination naturally turns: nonprofits could definitely use this product to assemble grant applications and write up proposals for their projects, too. Plus, there is a great variety of non-proposal documents included in the packages, so you can use Proposal Packs to do reports and feasibility studies and analyses of all kinds, too.
What the product is:
Proposal Kit Professional is a suite of business proposal and contract management products that help all kinds of organizations focus on the business end of what they do. The Proposal Kit Professional package was originally created by and for software developers and web site designers, but now the product has been expanded to include nearly every area you can think of. Proposal Kit Professional has a huge following. You can check this out for yourself by reading all the testimonials and industry endorsements on the www.ProposalKit.com web site.
Proposal Kit Professional includes thousands of pages of all sorts of material, including proposal templates, sample proposals, contract and agreement documents, project estimate spreadsheets, interview questionnaires, planning checklists, example project layout diagrams and more! The fully editable and immediately downloadable Proposal Kit products are designed to essentially help you price your services, streamline your business and allow you to focus more on your bottom line, all of which translates into more money in your pocket and a lot less stress in your work life.
And the benefits of this proposal software don't just stop there. Proposal Kit has released non-technical versions of their kits for any business; these are called "Proposal Packs." They are collections of their proposal templates dressed up in several graphic themes. A Proposal Pack will help you design and outline a wide variety of business proposals that will conform to industry standard guidelines.
There are a lot of sample proposals included in each Proposal Kit package, too, so you can see examples of how other organizations have used the templates and spreadsheets to craft a variety of proposals. So if you personally do not know the difference between an Executive Summary and a Cost Summary and a Mission Statement page within a proposal, you need to check these Proposal Kit products out. Proposal Packs appeal to individuals, freelancers, small businesses and even individuals and groups within large companies who need to get their writing and report projects completed before the deadline and within a reasonable budget.
Compatibility with other software is never an issue with Proposal Kit products, either. Proposal Kit products are cross-platform compatible; all of them will work on Macintosh, Windows and Linux operating systems with OpenOffice. If your organization uses office applications such as Appleworks, Google Docs, iWork, Pages, Microsoft Word (Mac or PC), Microsoft 365, OpenOffice, StarOffice or even Word Perfect - the Proposal Kit has your needs covered.
Once you have the product downloaded and installed, Proposal Kit gives you an easy-to-use document launcher and organizer (called the Proposal Pack Wizard), as well as a generous amount of help documentation and thousands of pages of templates filled with useful suggestions of what to put on those pages. If you take the extra time required to customize the documents with your own logo and your specific business information, you will quickly see how using this product will save your organization time and money. For people like us, that isn't just hyperbole - it actually does translate into money in the bank.
Here are the Pros of using these products:
The Proposal Kit company comes out with frequent updates and upgrades to the Proposal and Contract materials, so your proposal and contract management system can continue to grow and evolve.
These products are already used by over a hundred thousand developers and other business people worldwide; they are also used in University web design and business courses.
These products include contract documents that conform to United States, United Kingdom, Australian, Canadian (including the province of Quebec) Laws.
The software supports many operating system and office suite combinations.
There are so many templates and sample proposals included that it makes it easy to assemble a proposal for almost any project and any type of business or nonprofit organization.
And here are the Cons:
The Proposal Kit products, especially Proposal Kit Professional, really contain a LOT of documents. You will find links everywhere that take you to yet more information, including a variety of helpful guides as well as plenty of tips on best practices and advice on how to stay out of trouble. It might take some time for you and your employees to review all the pieces and realize the full potential of everything that is included and understand how all the elements work together as a system.(Then again, you don't actually have to comprehend absolutely everything that's included in the package to get started on your specific project, so there's really no need to feel stymied by the vast amount of information available.)
You can check out testimonials and samples on the company's website: https://www.proposalkit.com. A lot of people in addition to myself have written reviews and recommendations and posted them there.
At their web site, you can find all the Proposal Kit and Related Products, as well as examples of proposal templates and a couple of assembled sample proposals.
Now, who the heck am I, besides the author of this review?
I am Tom Granger, the founder of Florentine Design Group, a provider of web, software, e-commerce, graphic design, CD-ROM development and other multimedia solutions to a wide variety of businesses and government organizations. Florentine Design Group is a long-time user of Proposal Kit and has contributed material to Proposal Kit for many years.