Businesses small to large and individuals like yourself in every industry have been using Proposal Kit to create their business proposals, quotes, plans and contracts for over 20 years. Order now, download and get started in minutes. No ongoing subscription fees. Free support is included.
Save costs with a single low-cost purchase instead of incurring ongoing monthly fees. All our proposal packages include templates and layouts for all types of businesses and situations including healthcare and medical, transportation, logistics, security, pitching new business opportunities, business restructuring, crisis management, etc. Our staff is available to assist in helping you put together any kind of proposal document you need.
Proposal due last minute and you don't know how to get started?
Lender asked for a business plan proposal?
Need to respond to a private or government RFP?
Don't have the time or design skills to create a professional looking document?
Can't afford ongoing subscription fees that others charge?
Proposal Kit has been the secret weapon for proposal writers for decades. Got questions, click our
Contact
page and tell us what you need.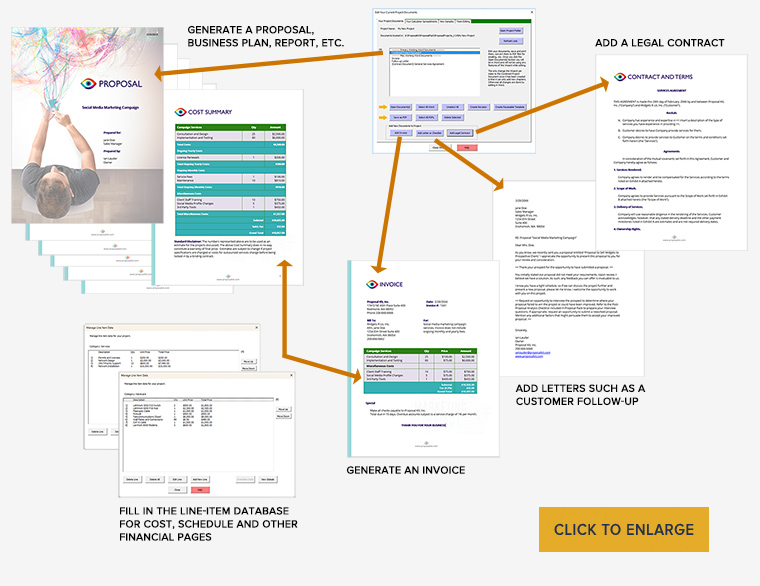 Assemble and Customize for Any Business with Included Wizard Software -
now with Automated Quoting

Quick and easy - get started right away
Download and install on up to 5 computers
Install locally or on your network or cloud
Contract and proposal writing for any business
Proposals and contracts for many situations
15,000 page content library
Includes 3,000 title page cover designs
Includes foreign language support
Includes Expert Edition proposal software
Includes a free logo design pack of your choice
One-time license fee - no monthly fees
Service and product sales for any business
IT, software, hardware professionals
Web site developers & graphic designers
Human resources & employees
General contractors
Grant writers
Advertisers and marketers
With
Proposal Kit Professional
you get a bundle of 20 products with business proposals, contracts, proposal examples, project management, estimating and Expert Edition proposal writing software.

Thank you!! Everyone at our national headquarters (Kinko's, too) wanted to know "who" did the business proposal layout. I told them proposalkit.com! I don't know what I would have done without Proposal Kit."
Kristen Howell
American Red Cross of Florida

We've been successfully using Proposal Kit Professional for years to draft winning proposals, build agreements, and produce contracts. The easy to use templates provide a solid foundation for building winning, professional proposals that leave our clients excited to work with our agency."
Tanya Steinberg
Blueprint Media Studios LLC

Quick and easy - get started right away
Download and install on up to 5 computers
Install locally or on your network or cloud
Business proposals for any business
600 graphic title page covers included
A content library with 2,200+ chapters
A library of 200 completed sample proposals
Includes Novice Edition proposal software
Mail merge and document assembly features
One-time license fee - no monthly fees
Each logo design theme is sold separately
Cover, inquiry and follow-up letters
Work orders and general contracts
Non-disclosure protection forms
Financial templates and forms
Business proposal development worksheets
Business proposal writing
Government grant writing
With a
Proposal Pack
you get one library of proposal templates, sample proposals and Novice Edition wizard software. Any one pack works for all types of proposals and all industries.

I have already closed 2 deals with major international aerospace companies and have meetings all this week with new clients. I was so impressed by the results I upgraded to the professional version and was impressed even more."
Antonio J. López
President & CEO
Quantum Internet Services Inc.

I would tell anyone to give the software a try, it is worth every dollar. I recouped the cost back more than twenty times what it cost me. I am happy and my client is ecstatic."
Yvonne Thompson, Ph.D.

Quick and easy - get started right away
Download and install on up to 5 computers
Install locally or on your network or cloud
340+ detailed legal contract documents
Includes Novice Edition wizard software
Mail merge and document assembly features
One-time license fee - no monthly fees
IT, hardware and software contracts
Web site development contracts
Graphic designer contracts
Human resources & employee contracts
Photographer contracts
General contractor contracts
Advertiser and marketer contracts
With a
Contract Pack
you get one library of legal contract templates and Novice Edition wizard software.

Without you guys I would have lost countless site agreements."
Andy Tilley
Antrim Computer Services

What I needed ended up being in the "Contract Pack" and I couldn't be happier. I'm already done with my contracts for the new business and it took about an hour."
William Ashworth
Ashworth Consulting
Writing a business proposal can be a daunting task for new proposal writers. Maybe you have a sales team who needs to create proposals in real time or maybe you just need to write a one-off document for a potential client.
Many people will have a fair amount of proposal content already written in the form of web site content and other sales documents. If you are selling a product or service, you may have brochures or manuals already created. All this content can be imported into a Proposal Kit document and used in our Wizard software to automate creating proposals more in a more dynamic proposal process.
Proposal Kit helps you in many situations such as how to fill in an Executive Summary with many prewritten examples. Maybe you need to respond to a request for proposal for a government agency. Maybe you need to write a project proposal for a construction project.
There are countless ways Proposal Kit is used across all industries, all types of proposals and business documents and it has been used for decades across almost every country in the world.