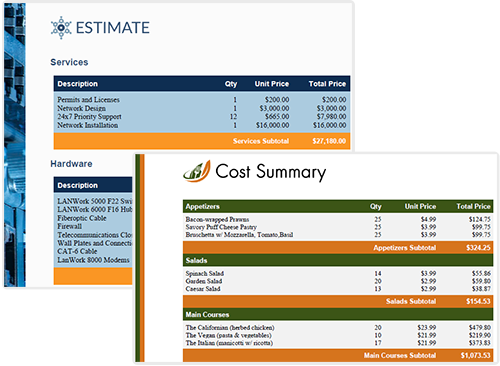 The Proposal Pack Wizard includes an automated line-item database system that can be used for quotes, invoices, schedules, business plan financials and many other custom uses. The database system is data driven and customizable by the user.
A database definition has one or more Categories. Each Category has one or more line-item columns (i.e. a description, unit price, rate, quantity, tax, shipping, image thumbnail, product code, etc.). You can define any type of field using any available data type for whatever purposes you need. A Category can be setup for a product sales database, services sales, a project schedule, budget, cost/benefit analysis, etc.
Novice Edition users have access to use any premade databases as-is while Expert Edition users also have access to all the customization features to do things such as change layouts, change calculations, create custom databases.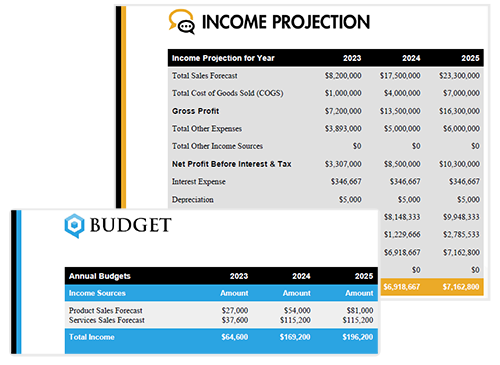 A variety of premade databases are included for cost summaries, invoices, schedules and other business plan financial pages. Expert Edition users can customize databases including changing calculations, adding or removing column fields, changing the visual layout of the tables, etc.
Populate your data via data entry forms, import/export from Excel spreadsheets, create premade drop down lists of line items to select from and even prepopulate each projects database with common line items.
Let the Wizard create the table output for you with many customization options, or create your own custom Word formatted tables for more control of the final output.