This chapter template is included in every Proposal Pack along with thousands more chapter templates.
Order and download for $79.

DOWNLOADABLE, ONE-TIME COST, NO SUBSCRIPTION FEES
Use this page to describe the feel of a place. Ambiance (also spelled ambience) is generally used to mean the emotional atmosphere of a setting, such as a vibrant ambiance that promotes creativity and stimulates visitors, or a tranquil ambiance that causes visitors to feel serene.
Love the Proposal Pack. I'm able to write very professional proposals quickly. The myriad of available selections ensures you're prepared to write custom proposals for any situation. I've used this package to win several consulting bids, prepare an extensive business turnaround proposal, and to write a start-up business plan."
Jennifer Nybo-Byrd
President at Byrd Group, LLC.
Produced by:
Proposal Kit
Category:
Software › Computer Software › Business & Productivity Software

4.9 stars, based on
821 reviews
Related chapters may be used in conjunction with this chapter depending on your situation. Many related chapters are intended to be used together to form a more complex and integrated proposal.

Related Chapters:
This template is illustrated in actual use in the following Sample Proposals. Samples are also included in each Proposal Pack and illustate many of the industries and situations this template can be used for: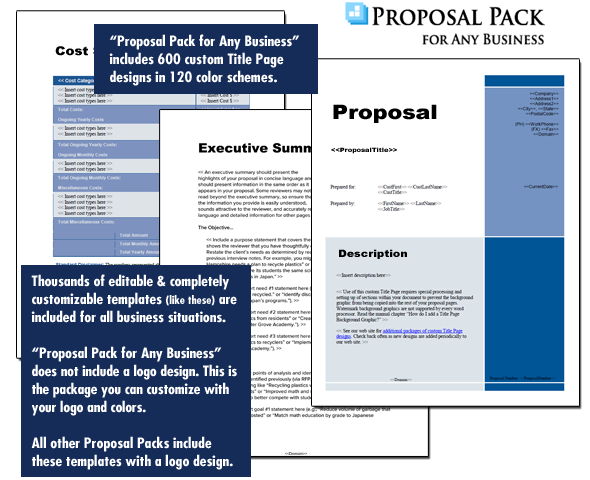 A proper business proposal will include multiple chapters. This is just one of many chapters that may be included in your proposal. The complete fill-in-the-blank template is included in our Proposal Pack template collections. A variety of sample proposals illustrating how companies in different industries both large and small have written proposals using our Proposal Packs are also included. This template will show you how to write the Ambiance.
A wide variety of chapters are included and are intended to be picked based on your needs. All proposals are different and have different needs and goals. Pick the collection of chapters from our collection and organize them as needed for your proposal. Recommendations and samples provided are only intended as general guidelines.
Using the Proposal Pack template library you can create any kind of business proposal, report, study, plan or document
such as these
.
How do you write a Ambiance document?
Use this page to describe the " feel" of place. Ambiance also spelled " ambience" is generally used to mean the emotional atmosphere of setting such as vibrant ambiance that promotes creativity and stimulates visitors or tranquil ambiance that causes visitors to feel serene. Descriptions of ambiance are particularly important in the hospitality industry and the real estate field. Describe the physical features of the setting here and explain how they promote specific feeling. For example you might write something like " The bright neon sculptures and jazzy tonal music in Concourse energize weary adult travelers and delight children as they pass through the area" or " The muted color scheme and cushioned furniture in the Parents Lounge make it perfect place to soothe fretful toddler or feed or change your infant" or " The blue beige and white color scheme and the nautical touches in the Sailors Hotel will make you feel as if youre sleeping on luxury yacht. "
A Document from Proposal Pack

The editable Ambiance template - complete with the actual formatting, layout and graphics is available in the retail Proposal Packs.