The Authorization template is a short form agreement authorizing you to start work on the project. This template may be included in your proposal as a form the clients can sign and date and send back to you as authorization they have accepted the proposal.
amazing by the way. It cut down our bid package preparation by at least 5 days. Great product! Don't think we could do without it, now that we have it."
Kelvin Johnson
Double Eighteen Software Group Inc.
Produced by:
Proposal Kit
Category:
Software > Computer Software > Business & Productivity Software

4.9 stars, based on over
700 reviews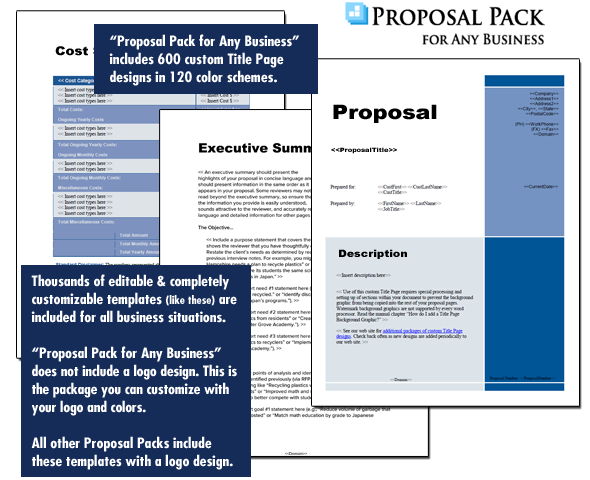 A proper business proposal will include multiple chapters. This is just one of many chapters that may be included in your proposal. The complete fill-in-the-blank template is included in our Proposal Pack template collections. A variety of sample proposals illustrating how companies in different industries both large and small have written proposals using our Proposal Packs are also included. This template will show you how to write the Authorization.
A wide variety of chapters are included and are intended to be picked based on your needs. All proposals are different and have different needs and goals. Pick the collection of chapters from our collection and organize them as needed for your proposal. Recommendations and samples provided are only intended as general guidelines.
Using the Proposal Pack template library you can create any kind of business proposal, report, study, plan or document
such as these
.
How do you write a Authorization document?
Company name Address Address City State or province Zip or postal code Phone. Phone number DATE. Current date Order #. WorkOrder Contract ID. Contract reference number
Customer. Company name City State or province Zip or postal code Phone. Phone number For. General Description of Project Deliverables ACCEPTANCE OF AGREEMENT. I authorize Company name to start development of the project as of Current date. I understand the estimated end date will be End date. Company name is authorized to bill us according to the contract payment terms as agreed by both parties. understand that the project will be started after the authorization has been received by Company name. The contract is usually negotiated and signed separately from the proposal document. The information contained in your proposal can also be considered part of the contractual agreement so make sure your contractual agreement matches the information you have included in the proposal. This is only an authorization to start work. this template is not meant to include the entire terms and conditions of your contract.
Customers Signature Title
A Document from Proposal Pack

The editable Authorization template - complete with the actual formatting, layout and graphics is available in the retail Proposal Packs.