This chapter template is included in every Proposal Pack along with thousands more chapter templates.
Order and download for $79.

DOWNLOADABLE, ONE-TIME COST, NO SUBSCRIPTION FEES
The Bid / No-Bid Checklist is a checklist of items to consider when deciding if you should bid or not bid on a project. A Bid / No-Bid checklist helps to provide an objective approach to deciding if it is worth your time, money and effort to write the proposal.
This is the easiest package I have used to put together a deal. Select a template, type in a few details, proof read, save to file, email to prospect. It just doesn't get any easier. If you want to save time and money, I recommend you seriously investigate Proposal Pack Wizard, and take some of the stress out of your life."
Peter Safe
Certified SEO Copywriter
[Australia]
Produced by:
Proposal Kit
Category:
Software › Computer Software › Business & Productivity Software

4.9 stars, based on
837 reviews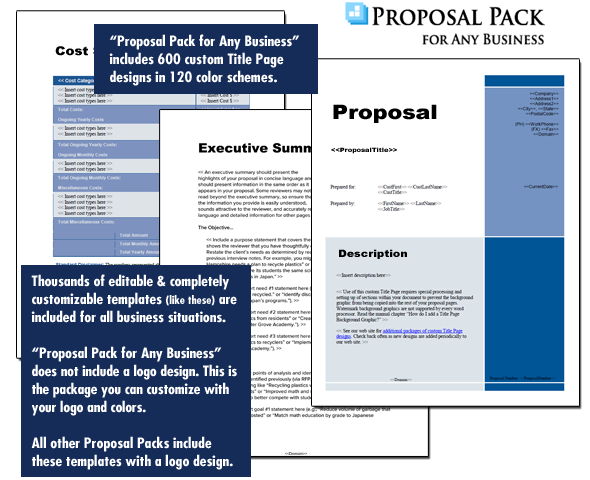 A proper business proposal will include multiple chapters. This is just one of many chapters that may be included in your proposal. The complete fill-in-the-blank template is included in our Proposal Pack template collections. A variety of sample proposals illustrating how companies in different industries both large and small have written proposals using our Proposal Packs are also included. This template will show you how to write the Bid / No-Bid Checklist.
A wide variety of chapters are included and are intended to be picked based on your needs. All proposals are different and have different needs and goals. Pick the collection of chapters from our collection and organize them as needed for your proposal. Recommendations and samples provided are only intended as general guidelines.
Using the Proposal Pack template library you can create any kind of business proposal, report, study, plan or document
such as these
.
Writing the Bid / No-Bid Checklist document
Bid No Bid Evaluation Form and Checklist Choose Measure Score of to 5. Best competitive advantage Neutral neither helps or Strong competitive disadvantage
UNK Unknown Measure Score to Potential Opportunity Killer = Yes
N= Federal Agency Information 1. Do we have contact with Agency information officer about this grant. 2. Have we identified an internal official to pre screen our proposal for compliance. 3. Did we check to see if our proposal idea has been used before with legislators area government officials or similar agencies. 4. Did we check the CFDA Financial Information to confirm that the funding has been approved. 5. Do we understand the community need and can we document it to funders. 6. Did we recruit community support via individuals or groups with affiliation agreements mutual agreements or commitments. 7. Did we check the Federal Agency requirements and confirm our eligibility for the grant. 8. Are there serious financial organizational or technical issues behind the scenes. 9. Did we recruit writing team for the proposal. 10. Do we know the proposal timeline and is it realistic for our organization. 11. Did we check on previous winners for this grant and do we have copies of winning grant proposals. 12. Have we established review team for the proposal. 13. Did we line up all chief administrators and obtain their agreement to sign off on the proposal. 14. Has the organization determined if it will use an electronic or print application with the Federal Agency. If electronic have we registered with grants. Internal Data Collection Authentication 15. Is this opportunity aligned with our organizational mission goals and strategy. 16. Do we have strong management support or sponsorship for the proposal. 17. Do we have resources talent and motivation to win this opportunity. 18. Have we identified financial manager to supervise the distribution and accounting for funds. 19. Have we assessed our partners and their resources as stated for this opportunity. 20. If we need additional resources do we know where to get them. 21. Do we have successful track record with government grants. Is it documented. 22. Does our organization have relationship with the Federal agency funding this grant. With its state office. 23. Have we identified the " differentiators" that make our proposal unique. 24. Has the writing team been identified and work assigned by skills and experience. 25. Are there any consequences of losing this grant opportunity. 26. Have we built the internal data collection analysis and evaluation resources for the grant. External Competitive Information 27. Do we know other organizations competing for this grant. 28. Do we know the profile of organizations that have won this grant in the last years. 29. Does our solution involve new or untried technologies. 30. Did we successfully negotiate with partners the means to sustain this project after the grant monies are spent. 31. Did we document our matching funds with all required agencies and do we have written endorsements that confirm this fact. 32. Will winning this grant open up new opportunities for our organization. 33. Who is our spokesperson to legislators government agents or state office representatives for this grant. 34. Is any competitor favored by the Federal agency decision makers. 35. Will winning this grant enhance our reputation. 36. Add additional bid no bid criteria as needed Total number of Yes responses Total score Maximum of points Total number of scores rated as Disadvantage Total number of scores rated as UNK unknown Determine your score and determine what will constitute bid no bid decision for your organization. For example you might decide that score of 80% and no more than two potential opportunity killers will constitute positive bid decision. This list is by no means complete list of all bid no bid decisions you should make. Use this list as starting point to create your own list of bid no bid criteria.
A Document from Proposal Pack

The editable Bid / No-Bid Checklist template - complete with the actual formatting, layout and graphics is available in the retail Proposal Packs.