This chapter template is included in every Proposal Pack along with thousands more chapter templates.
Order and download for $79.

DOWNLOADABLE, ONE-TIME COST, NO SUBSCRIPTION FEES
Use this page to create a specialty introduction chapter for a proposal or request from a publisher or conference organizer for papers. This page would most likely be used in an academic, scientific, medical context, to request materials for inclusion in a publication or to request papers or studies to be presented in person at a conference.
create a 9 page document that looks absolutely fabulous. Without a doubt it will help in creating proposals. I'll either be able to create them faster or if I take the same amount of time they will look much much better. This product is absolutely worth every last penny."
Glenn Rathke
Produced by:
Proposal Kit
Category:
Software › Computer Software › Business & Productivity Software

4.9 stars, based on over
700 reviews
Related chapters may be used in conjunction with this chapter depending on your situation. Many related chapters are intended to be used together to form a more complex and integrated proposal.

Related Chapters: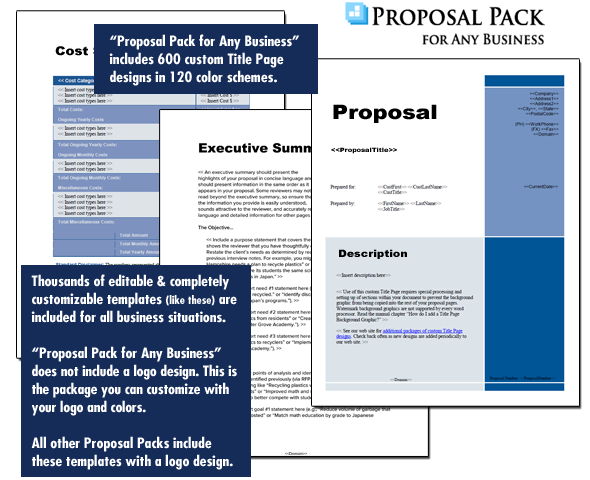 A proper business proposal will include multiple chapters. This is just one of many chapters that may be included in your proposal. The complete fill-in-the-blank template is included in our Proposal Pack template collections. A variety of sample proposals illustrating how companies in different industries both large and small have written proposals using our Proposal Packs are also included. This template will show you how to write the Call for Papers.
A wide variety of chapters are included and are intended to be picked based on your needs. All proposals are different and have different needs and goals. Pick the collection of chapters from our collection and organize them as needed for your proposal. Recommendations and samples provided are only intended as general guidelines.
Using the Proposal Pack template library you can create any kind of business proposal, report, study, plan or document
such as these
.
How to write my Call for Papers document
Use this page to create specialty introduction chapter for proposal or request from publisher or conference organizer for papers. This page would most likely be used in an academic scientific medical context to request materials for inclusion in publication or to request papers or studies to be presented in person at conference. Describe in general the nature of the event or publication and then describe in general the nature of the papers you seek. Name of Event or Publication e. g. " Renewable Energy Conference" or " Innovations in Nanotechnology" For events include information on date location history and expected attendees. For publications include publication date title of publication and information on goals readership and distribution. Submission Information Provide submission information including requirements for content size format and delivery of submission as well as the deadline for submission. Include details about who will select papers and the criteria that will be used for selection.
Acceptance Information Provide information on when and how the authors of accepted papers will be notified. If you have an additional " camera ready" ready for deadline after paper has been accepted include that here as well. Additional Information Provide any additional information the readers should know such as awards or further opportunities for the best papers or details about speaking at the event.
A Document from Proposal Pack

The editable Call for Papers template - complete with the actual formatting, layout and graphics is available in the retail Proposal Packs.