This chapter template is included in every Proposal Pack along with thousands more chapter templates.
Order and download for $79.

DOWNLOADABLE, ONE-TIME COST, NO SUBSCRIPTION FEES
Use this template to describe any construction process. For example, your company might need to construct a new showroom to exhibit your products, or need to construct a new piping system to connect one water supply to another.
Proposal Kit is very helpful to my business. I used it for a very big tendering project and we won the business with it."
Regina Gan
Rena Creative Products Ltd.
Produced by:
Proposal Kit
Category:
Software › Computer Software › Business & Productivity Software

4.9 stars, based on
830 reviews
Alternate chapters are those which may be used instead of this chapter depending on your situation. Alternate chapters may be better suited for different size projects, more specialized projects, variations on rights, etc.

Alternate Chapters:
Related chapters may be used in conjunction with this chapter depending on your situation. Many related chapters are intended to be used together to form a more complex and integrated proposal.
Related Chapters: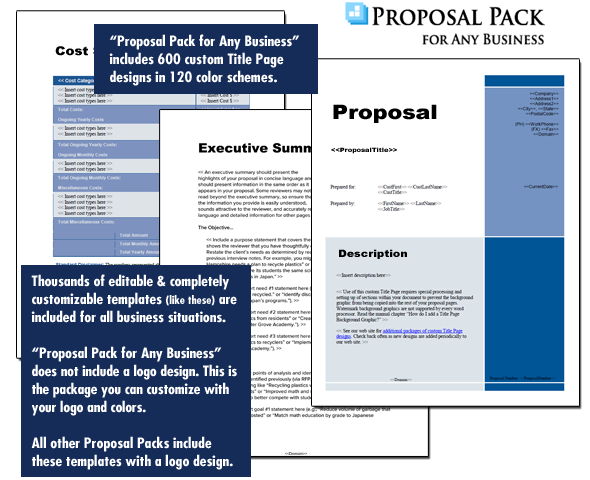 A proper business proposal will include multiple chapters. This is just one of many chapters that may be included in your proposal. The complete fill-in-the-blank template is included in our Proposal Pack template collections. A variety of sample proposals illustrating how companies in different industries both large and small have written proposals using our Proposal Packs are also included. This template will show you how to write the Construction.
A wide variety of chapters are included and are intended to be picked based on your needs. All proposals are different and have different needs and goals. Pick the collection of chapters from our collection and organize them as needed for your proposal. Recommendations and samples provided are only intended as general guidelines.
Using the Proposal Pack template library you can create any kind of business proposal, report, study, plan or document
such as these
.
How to write my Construction document
Use this template to describe any construction process. For example your company might need to construct new showroom to exhibit your products or need to construct new piping system to connect one water supply to another. Describe in general why you need to construct something here. What need does the construction serve what benefits will be gained. Construction Project. Name the project here e. g. " Parking Garage" or " Storage Cabinets in Computer Lab" Description. Add description here being as specific as possible. You may need to specify locations dimensions materials to be used costs etc. You may want to include diagram or schematic here. To Be Constructed By signator authorized signature or signer. Name the company or individual that will do the construction here. Contact information here Phone Email Address etc. Pre Construction Activities. List any activities that must take place before construction can begin. For example materials may need to be purchased and delivered contracts finalized spaces cleared etc. Schedule. List dates or ranges during which construction will take place. Notes. Describe any important details you may need here such as special conditions during construction. For example if the construction process causes dust or toxic gases ventilation may need to be controlled. Construction workers on sites may be security concerns; or normal traffic or business procedures may be disrupted.
Construction Project Contact. Name the person to contact for more information.
A Document from Proposal Pack

The editable Construction template - complete with the actual formatting, layout and graphics is available in the retail Proposal Packs.