This chapter template is included in every Proposal Pack along with thousands more chapter templates.
Order and download for $79.

DOWNLOADABLE, ONE-TIME COST, NO SUBSCRIPTION FEES
The Grant Proposal Development Checklist contains a list of common items to consider during the development of your grant proposal. Use this checklist as a guide and edit it to suit your own workflow. Print a copy each time you develop a new proposal and check off items as they are completed. Use the checklists to keep track of details to ensure the proposal development process proceeds as smoothly as possible and that details are not missed.
Packs, wizard, and Estimate templates helped me to organize my thoughts and allowed me to focus on the substance of the proposals, rather than the logistics of creating them. We are now able to produce high-quality proposals very efficiently."
Kimberly R. Davis
Director, Design & Technology
ThingsEternal Strategic Solutions
Produced by:
Proposal Kit
Category:
Software › Computer Software › Business & Productivity Software

4.9 stars, based on over
700 reviews
Related chapters may be used in conjunction with this chapter depending on your situation. Many related chapters are intended to be used together to form a more complex and integrated proposal.

Related Chapters: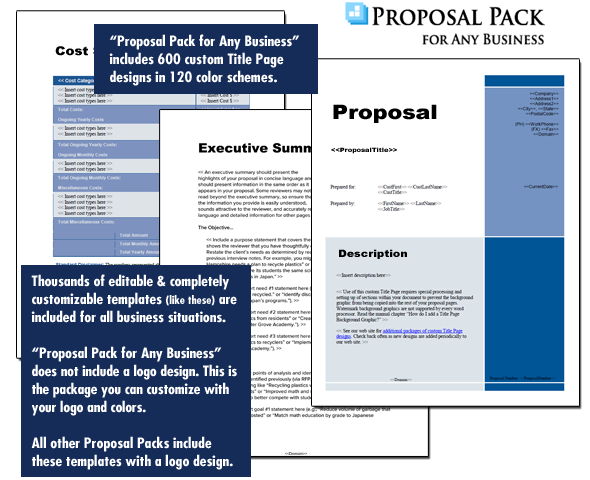 A proper business proposal will include multiple chapters. This is just one of many chapters that may be included in your proposal. The complete fill-in-the-blank template is included in our Proposal Pack template collections. A variety of sample proposals illustrating how companies in different industries both large and small have written proposals using our Proposal Packs are also included. This template will show you how to write the Grant Proposal Development Checklist.
A wide variety of chapters are included and are intended to be picked based on your needs. All proposals are different and have different needs and goals. Pick the collection of chapters from our collection and organize them as needed for your proposal. Recommendations and samples provided are only intended as general guidelines.
Using the Proposal Pack template library you can create any kind of business proposal, report, study, plan or document
such as these
.
Writing the Grant Proposal Development Checklist document
Government Grant Proposal Development Checklist Disclaimer. This document is compilation of best practices obtained from grant writers federal agencies and nonprofit resources. It does not reflect any one approach but uses composite approach that includes accepted practices for successful completion of federal grant applications. When assembling your proposal using Proposal Pack templates consider using this strategy. First select stock Proposal Pack templates that match the types of information you need to include in the proposal. Second if you are responding to an RFP you will need to follow the RFP guidelines to the letter. This may mean customizing the Proposal Pack stock templates or creating new ones. Note that there are no set standards for RFPs. Agencies will ask for the same information in different ways sometimes even varying between RFPs from the same agency. The RFP guidelines you are given take precedence over any content found in the stock Proposal Pack templates. Third when agency specific forms and worksheets are supplied and required use them instead of Proposal Pack stock templates. Also make sure to always use the most up to date versions of supplied agency forms. Phase 1. Preparation of Proposal Need or problem has been identified that company may bid on. Team formed and working space provided. Team has decided how the finances for the project will be administered. The guidelines from the targeted funder have been received and reviewed all necessary research on the funder completed and contact has been made with funding Contracting Officer. A complete outline of the funders requirements for the proposal content has been written and double checked by second person. A complete list for the funders requirements for submitting the proposal has been written and double checked by second person. Team has prepared questions for submission to Contracting Officer and has received and reviewed responses to questions from funding agency. A list of the " hot buttons" or selling points has been written based on the information about the funder captured from research and from the RFP guidelines or funders proposal toolkits. Note that government agencies may provide toolkits that include worksheets forms examples and instructions on how they want the proposal structured and the information they want included. Phase 2. Planning the Proposal Check to see if the idea for your proposal has been considered in your locality region or state; and include legislators area government agencies and private agencies with current grant awards or contracts doing similar work. Circulate your proposal among individuals and groups representing academic political professional and lay organizations to capture and generate written support for the proposal. Identify partners to participate in the competition define partnership agreement in writing that profiles dimensions of mutual agreement to share services between agencies if required. Specify each partners scope and level of effort in the project. Define number type and cost of short or long term staff on project. Establish review process for the proposal that includes neutral third party to review the proposal draft and provide constructive criticism. Track ideas throughout the process to use during the grant writing process. Alert institutions of required signatures prior to submission. Phase 3. Writing the Proposal Check with the funder guidelines to insure that the basic components of your proposal include. proposal summary or abstract introduction of organization information about your company the problem statement or needs assessment project goals and objectives project methodology project evaluation future funding sustainability the project budget and and agency specific or mandatory federal forms see www. grants. gov. Write the proposal summary both as cover letter and abstract. Make sure it is brief no longer than two or three paragraphs but that it outlines the project goals summarizes the key objectives and demonstrates support of the needs. Note that there are number of summary related Proposal Pack templates to choose from. Pick the necessary templates and modify them as needed based on the RFP requirements. Introductions should gather data that describes your organization from diverse sources. Provide clear details about the organizations past and present operations brief bios of board members descriptions of personnel review of your organizations mission statement company philosophy track record with other grantors successes and any other information that is relevant to the goals of the grantor agency. Note that there are number of introduction related Proposal Pack templates to choose from. Pick the necessary templates and modify them as needed based on the RFP requirements. Research to support our problem statement or needs assessment has been completed. Did you document the purpose of the proposal beneficiaries social and economic costs to be affected nature of the problem how your organization came to understand the problem and what is currently being done to resolve the problem alternatives specific manner you will use to solve the problem and how you plan to use specific resources. Note that there are number of needs assessment related Proposal Pack templates to choose from. Pick the necessary templates and modify as needed based on the RFP requirements. Project goals and objectives have been checked to ensure that they refer to specific activities in the proposal and that they can be quantified and qualified by descriptions that verify outcomes. Note that there are number of goals and objectives related Proposal Pack templates to choose from. Pick the necessary templates and modify as needed based on the RFP requirements. Research to support your proposed methodology approach has been completed. Did the team include program design that shows the expected work to solve the stated problem. Include key indicators. inputs activities needed to use related resources and staff flow chart of the organizational features of the project or network needed to deliver results throughputs and explain what will be achieved. Did you detail performance measures Is there diagram of the program design Have you provided narrative on the course of action to be taken and the most cost efficient method needed to ensure project quality. Timeline provided. Note that there are number of methodology related Proposal Pack templates to choose from. Pick the necessary templates and modify as needed based on the RFP requirements. Research to support the expected results outcomes on successful completion of your project has been completed. Did you use program evaluation and review technique PERT chart to support the proposal. Detail the innovative features of the proposal. And link your supportive data to this description in the appendices to provide data on in depth analysis. Note that there are number of evaluation related Proposal Pack templates to choose from. Pick the necessary templates and modify as needed based on the RFP requirements. Does the proposal budget justify all expenses and show consistency with the narrative. Check that. salaries in proposal are similar to those in the applicant organization support is planned for additional staff being hired and the equipment is of the type allowed by the grantor. Also has insurance been provided for when needed. And make sure that the division between direct and indirect costs is not in conflict and the aggregate budget totals refer directly to the approved formula and matching funds are detailed as required. Note that there are number of budget and financial related Proposal Pack templates to choose from. Pick the necessary templates and modify as needed based on the RFP requirements. Team has reviewed the final project budget and confirms that it includes summary figures as well as complete itemization. Team has written solid justification for each line item in the budget. Team has provided written description of the items in the budget being requested from the funder the items being supplied by your organization and the items being supplied by other organizations. Sustainability or future funding has been defined by specific activities continuing the project after the funders monies have been spent. Appendices have been prepared to provide the reader with details that clarify the idea design personal vitae letters of support and endorsements. Phase 4. Production Delivery Determine if you are using the electronic delivery process under the federal government applicant to system instructions. See www. grants. gov.
Each agency has its own specific processes; however the examples at the www. grants. gov site can take you through the entire process. If you chose the paper delivery process please check the following production and delivery guidelines. determine why and by whom the proposal will be reproduced; conduct reviews of content for spelling design pages and charts to insure completed documents; make delivery preparations according to agency requirements; and check the number of days required for delivery against agency deadline for application. Proposal Pack Final Checklist. Match has been made by Proposal Pack templates and agency required headings Check each Proposal Pack template to be used in the proposal for headings and sub content to match agency requirements. Create Proposal Pack heading for any missing content requirements for agency specific directions. Use templates such as the Worksheet and Supplied Form and substitute in government supplied worksheets and forms. Assemble your proposal framework from the selected Proposal Pack templates in the order required by the RFP and edit the page headers as needed to create Table of Contents that matches the information requested in the RFP.
A Document from Proposal Pack

The editable Grant Proposal Development Checklist template - complete with the actual formatting, layout and graphics is available in the retail Proposal Packs.