Use this page to describe guidelines for a process or group of people. Generally speaking, guidelines are rules of thumb or general advice, but not necessarily requirements or regulations that must be followed.
incredibly easy way to put together the framework for each proposal so all I had to do was fill in the pages with my content and specifics. It also gave me ideas of information to include in a proposal that I never thought of before making the end proposal more complete and ultimately winning more projects."
J.K.
Fly Alaska
Produced by:
Proposal Kit
Category:
Software > Computer Software > Business & Productivity Software

4.9 stars, based on over
700 reviews
Related chapters may be used in conjunction with this chapter depending on your situation. Many related chapters are intended to be used together to form a more complex and integrated proposal.

Related Chapters: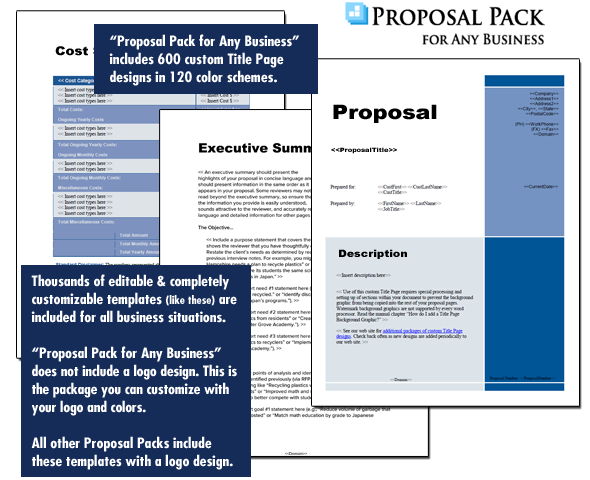 A proper business proposal will include multiple chapters. This is just one of many chapters that may be included in your proposal. The complete fill-in-the-blank template is included in our Proposal Pack template collections. A variety of sample proposals illustrating how companies in different industries both large and small have written proposals using our Proposal Packs are also included. This template will show you how to write the Guidelines.
A wide variety of chapters are included and are intended to be picked based on your needs. All proposals are different and have different needs and goals. Pick the collection of chapters from our collection and organize them as needed for your proposal. Recommendations and samples provided are only intended as general guidelines.
Using the Proposal Pack template library you can create any kind of business proposal, report, study, plan or document
such as these
.
How to write my Guidelines document
Use this page to describe guidelines for process or group of people. Generally speaking guidelines are " rules of thumb" or general advice but not necessarily requirements or regulations that must be followed. The following are the guidelines for insert process or group to which these guidelines apply e. g. " interacting with customers at the checkout counter" or " all camp counselors" Guideline #1 e. g. " Always ask the customers if they found everything they were looking for" or " You should be aware of the location of every child in your assigned group at all times. " Guideline #2 Guideline #3 Guideline #4
Guideline #5 Guideline #6 Guideline #7 Add summary paragraph here. Explain when the guidelines apply and when situations might call for different strategies. You also may want to explain what will happen if guidelines are not followed.
A Document from Proposal Pack

The editable Guidelines template - complete with the actual formatting, layout and graphics is available in the retail Proposal Packs.