This chapter template is included in every Proposal Pack along with thousands more chapter templates.
Order and download for $79.

DOWNLOADABLE, ONE-TIME COST, NO SUBSCRIPTION FEES
Use this template to discuss the importance of your proposal. Are your plans particularly timely and thus must be acted on immediately? Will your ideas have major benefits or prevent a future disaster.
I've used an older version of this product for several years now with fantastic results. This saves a lot of time with compiling reports and documents that are required during my graduate courses and daily business proposals in the project management field. Combined with the technology template pack this has provided everything I have needed to get everything organized and looking professional."
Rowrena Pickel
Produced by:
Proposal Kit
Category:
Software › Computer Software › Business & Productivity Software

4.9 stars, based on
830 reviews
Alternate chapters are those which may be used instead of this chapter depending on your situation. Alternate chapters may be better suited for different size projects, more specialized projects, variations on rights, etc.

Alternate Chapters:
Related chapters may be used in conjunction with this chapter depending on your situation. Many related chapters are intended to be used together to form a more complex and integrated proposal.

Related Chapters: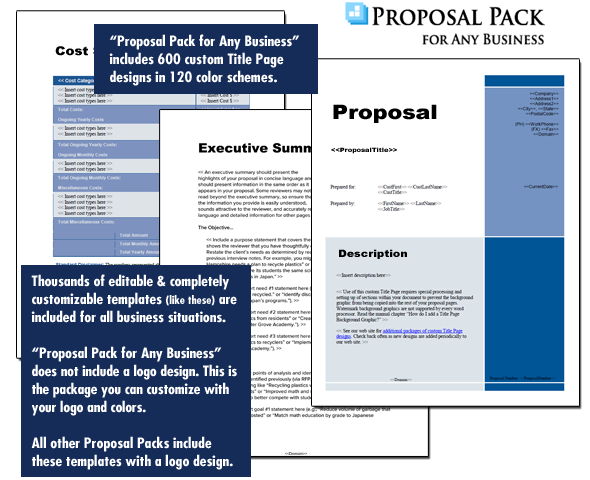 A proper business proposal will include multiple chapters. This is just one of many chapters that may be included in your proposal. The complete fill-in-the-blank template is included in our Proposal Pack template collections. A variety of sample proposals illustrating how companies in different industries both large and small have written proposals using our Proposal Packs are also included. This template will show you how to write the Importance.
A wide variety of chapters are included and are intended to be picked based on your needs. All proposals are different and have different needs and goals. Pick the collection of chapters from our collection and organize them as needed for your proposal. Recommendations and samples provided are only intended as general guidelines.
Using the Proposal Pack template library you can create any kind of business proposal, report, study, plan or document
such as these
.
How do you write a Importance document?
Use this template to discuss the importance of your proposal. Are your plans particularly timely and thus must be acted on immediately. Will your ideas have major benefits or prevent future disaster. For example you might want to explain how your competition is gaining market share and your organization must introduce new products or become more efficient to stay in the game. Or you might need to explain how community desperately needs to rectify problem like decaying infrastructure or loss of population. You may need to talk about budget or space constraints that have major implications for the future or your organization. Explain why your proposal must be seriously considered now. Introduce the topic of importance here. Things to consider are. Why did you submit this proposal. What makes this topic noteworthy. Are your ideas significantly better than the competitions. What will happen if nothing is done or if your proposal is not accepted. Then make your points below. Point e. g. " Our school has an above average dropout rate " " We have unique opportunity to buy out our competitor " or " Our current company expenses exceed our income by 10%" Include any necessary details here. For example you may need to compare numbers or discuss deadlines or refer to other documents where you discuss alternative solutions. Point Include any necessary details here. Point Include any necessary details here.
Include summary statement here. If appropriate insert " call to action" asking your audience to do something specific such as to vote for your proposal make contribution submit their ideas for solutions etc. Be sure to include contact names and deadlines as needed.
A Document from Proposal Pack

The editable Importance template - complete with the actual formatting, layout and graphics is available in the retail Proposal Packs.