This chapter template is included in every Proposal Pack along with thousands more chapter templates.
Order and download for $79.

DOWNLOADABLE, ONE-TIME COST, NO SUBSCRIPTION FEES
Use this template to describe inspections that must be done during the course of your proposal.
Just used one of your packs today and finished a business proposal in one day that would otherwise have taken me a week to do and the result was far more professional looking."
Marty Demarest
Produced by:
Proposal Kit
Category:
Software › Computer Software › Business & Productivity Software

4.9 stars, based on
824 reviews
Alternate chapters are those which may be used instead of this chapter depending on your situation. Alternate chapters may be better suited for different size projects, more specialized projects, variations on rights, etc.

Alternate Chapters:
Related chapters may be used in conjunction with this chapter depending on your situation. Many related chapters are intended to be used together to form a more complex and integrated proposal.

Related Chapters: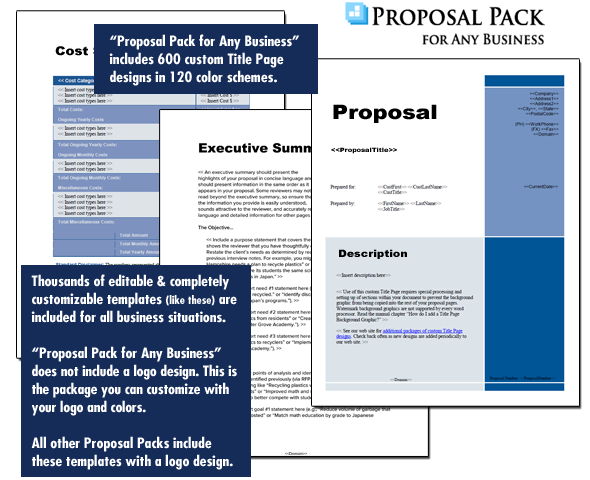 A proper business proposal will include multiple chapters. This is just one of many chapters that may be included in your proposal. The complete fill-in-the-blank template is included in our Proposal Pack template collections. A variety of sample proposals illustrating how companies in different industries both large and small have written proposals using our Proposal Packs are also included. This template will show you how to write the Inspection.
A wide variety of chapters are included and are intended to be picked based on your needs. All proposals are different and have different needs and goals. Pick the collection of chapters from our collection and organize them as needed for your proposal. Recommendations and samples provided are only intended as general guidelines.
Using the Proposal Pack template library you can create any kind of business proposal, report, study, plan or document
such as these
.
Writing the Inspection document
Use this template to describe inspections that must be done during the course of your proposal. For example many businesses such as those involved in food growing or handling transportation finances etc. require routine federal inspections of company paperwork or of daily procedures; other operations such as restaurants and child care or adult care facilities may require inspections from local authorities. construction project often must pass inspections of different systems at specific points before the project can continue. You can also use this document to describe inspections that you are proposing to do. You might do inspections for quality control on an assembly line to ensure best practices for clients or patients in service business to check the efficiency of your employees or almost any other reason. Introduce the topic of inspection here and explain its importance for your proposal. You may need to describe history of your locale or business regulations you must abide by etc. You might also need to describe activities that must happen before the inspection. Then go on to describe the inspections below. Inspection #1 e. g. " Foundation Inspection " " Routine FDA Inspection " or " Random Sampling of Products" Describe the details of this inspection here. For example you might describe when and by whom this inspection will be done the tests that will be performed how results will be delivered and so forth. You may also need to describe what will happen in the event that the inspection is failed. Inspection #2 Describe the details of this inspection here. Inspection #3
Describe the details of this inspection here.
A Document from Proposal Pack

The editable Inspection template - complete with the actual formatting, layout and graphics is available in the retail Proposal Packs.