This chapter template is included in every Proposal Pack along with thousands more chapter templates.
Order and download for $79.

DOWNLOADABLE, ONE-TIME COST, NO SUBSCRIPTION FEES
Use this page to provide information about an insurance policy. If this is a description of a life insurance policy, include information about beneficiaries, how amounts would be calculated, when and how payments would be made, and so forth.
Originally had little need to write proposals. But business has changed and has become more proposal-intensive. This kit has taken much work out of the writing for our employees. Thanks for making it simple!"
Ted Rogers
Produced by:
Proposal Kit
Category:
Software › Computer Software › Business & Productivity Software

4.9 stars, based on
830 reviews
Related chapters may be used in conjunction with this chapter depending on your situation. Many related chapters are intended to be used together to form a more complex and integrated proposal.

Related Chapters: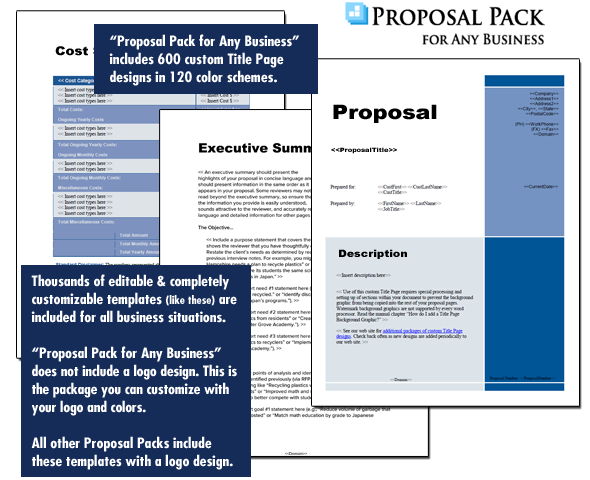 A proper business proposal will include multiple chapters. This is just one of many chapters that may be included in your proposal. The complete fill-in-the-blank template is included in our Proposal Pack template collections. A variety of sample proposals illustrating how companies in different industries both large and small have written proposals using our Proposal Packs are also included. This template will show you how to write the Insurance Schedule.
A wide variety of chapters are included and are intended to be picked based on your needs. All proposals are different and have different needs and goals. Pick the collection of chapters from our collection and organize them as needed for your proposal. Recommendations and samples provided are only intended as general guidelines.
Using the Proposal Pack template library you can create any kind of business proposal, report, study, plan or document
such as these
.
How do you write a Insurance Schedule document?
Use this page to provide information about an insurance policy. You might choose to fill in fields below replace everything below with the text of the policy or simply provide link to the policy document online. Insurance Company Name Policy Owner. Insert policy owner name here. Insured. Insert names and ages of insured here. Group. Insert the name or number of group this policy is associated with. Policy Number. Insert the policy number here. Original Policy Effective Date. Insert the first date effective here.
Schedule Effective Date. Insert an effective date for this policy version here. Rate Classification. Insert any discount or other classifying information. Basic Policy Premium. Insert premium amount here and state period monthly quarterly yearly etc. Payment Options. If payments can be made in various ways state those methods and associated costs here. POLICY DETAILS Elimination Period. Insert number of days of covered service. Maximum Lifetime Benefit. Insert amount or calculation used to derive this benefit. Benefits Provided by Your Policy. List other benefits provided such as nursing home benefits ambulance services assisted living benefits injury or disability benefits home health care services care giving assistance hospice services medical appliances international travel coverage and so forth. Include dollar amounts or limitations on benefits.
If this is description of life insurance policy include information about beneficiaries how amounts would be calculated when and how payments would be made and so forth. SEE THE POLICY FOR FURTHER DETAILS.
A Document from Proposal Pack

The editable Insurance Schedule template - complete with the actual formatting, layout and graphics is available in the retail Proposal Packs.