Use this page for any sort of invitation such as inviting a loyal or prospective client to a special event.
this product for years and the speed with which I am able to send out proposals is staggering due to this tool. I wholeheartedly recommend it to anyone."
Sean Bravener
Alpha Nerd and Associates
Produced by:
Proposal Kit
Category:
Software > Computer Software > Business & Productivity Software

4.9 stars, based on over
700 reviews
Related chapters may be used in conjunction with this chapter depending on your situation. Many related chapters are intended to be used together to form a more complex and integrated proposal.

Related Chapters: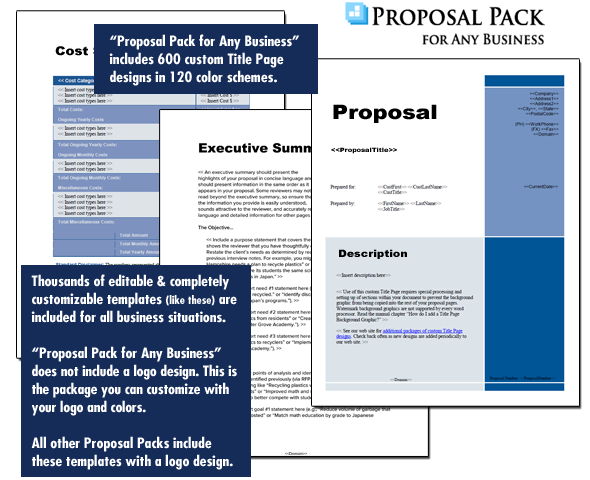 A proper business proposal will include multiple chapters. This is just one of many chapters that may be included in your proposal. The complete fill-in-the-blank template is included in our Proposal Pack template collections. A variety of sample proposals illustrating how companies in different industries both large and small have written proposals using our Proposal Packs are also included. This template will show you how to write the Invitation Letter.
A wide variety of chapters are included and are intended to be picked based on your needs. All proposals are different and have different needs and goals. Pick the collection of chapters from our collection and organize them as needed for your proposal. Recommendations and samples provided are only intended as general guidelines.
Using the Proposal Pack template library you can create any kind of business proposal, report, study, plan or document
such as these
.
Writing the Invitation Letter document
Use this page for any sort of invitation such as inviting loyal or prospective client to special event. Organization Address City State Postal Code Dear insert name here You are invited to insert event name here
Location Appropriate dress for occasion e. g. " Casual dress" or " Black tie" Insert additional information here. Some elements you may need to include are. the purpose of the event request to RSVP driving instructions to the location instructions regarding gifts or other items to bring descriptions of food that will be served and or activities that will take place permission to bring other guests and so forth.
A Document from Proposal Pack

The editable Invitation Letter template - complete with the actual formatting, layout and graphics is available in the retail Proposal Packs.