This chapter template is included in every Proposal Pack along with thousands more chapter templates.
Order and download for $79.

DOWNLOADABLE, ONE-TIME COST, NO SUBSCRIPTION FEES
Use the Project Analysis Overview to outline basic information about the entire project including overview of the project purpose, project objectives, project constraints, solutions overview, resource analysis, risk analysis and recommendations.
your packs today and finished a business proposal in one day that would otherwise have taken me a week to do and the result was far more professional looking."
Marty Demarest
Produced by:
Proposal Kit
Category:
Software › Computer Software › Business & Productivity Software

4.9 stars, based on over
700 reviews
Related chapters may be used in conjunction with this chapter depending on your situation. Many related chapters are intended to be used together to form a more complex and integrated proposal.

Related Chapters: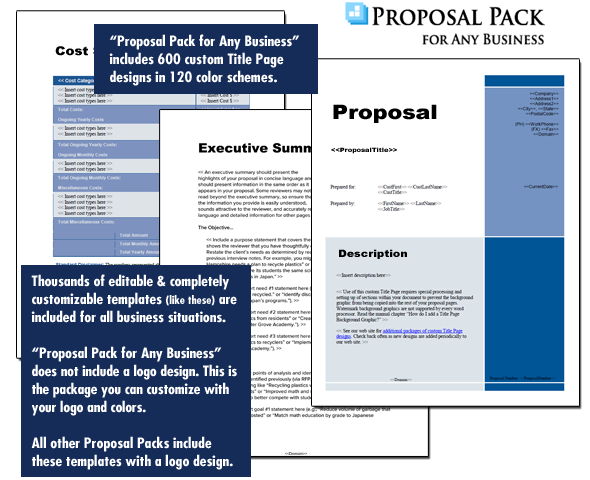 A proper business proposal will include multiple chapters. This is just one of many chapters that may be included in your proposal. The complete fill-in-the-blank template is included in our Proposal Pack template collections. A variety of sample proposals illustrating how companies in different industries both large and small have written proposals using our Proposal Packs are also included. This template will show you how to write the Project Analysis Overview.
A wide variety of chapters are included and are intended to be picked based on your needs. All proposals are different and have different needs and goals. Pick the collection of chapters from our collection and organize them as needed for your proposal. Recommendations and samples provided are only intended as general guidelines.
Using the Proposal Pack template library you can create any kind of business proposal, report, study, plan or document
such as these
.
Writing the Project Analysis Overview document
General Information Describe project title and date of analysis as well as preparer. Project Name. Prepared By signator authorized signature or signer. Date. Description Overview of Project Purpose.
Describe as necessary the business problems being addressed by this project. Description of Project Objectives. For each objective of the project give detail of the objectives description the " measurableness" of achieving that objective and what if any dependencies the objective may have upon other objectives or project milestones. Objective. Measurableness. Dependencies. Objective. Measurableness.
Dependencies. Objective. Measurableness. Dependencies. Description of Project Constraints
Give description of what if any constraints the project may have. Either in relation to the project as whole or as pertains to specific objectives. These constraints may be physical monetary equipment or time wise. Solution Overview For each solution give it unique title and short identifier. Job title of signator authorized signature or signer. ID. Description of Solution. Give detail of what is being proposed to address the specific business problems as given in the project description and how they relate to the objectives outlined in B. 2. Reason for Decision on Solution. Describe in detail how the solution in C. 1. above was decided upon as well as what factors played key role in selecting solution and how the solution will address the objectives outlined in B. 2.
Resource Analysis Describe each resource necessary to achieve the objectives of the project described in B. 2. These resources may be equipment funding time personnel etc. Resource Requirements Risk Analysis Describe all potential risks involving the project solution outlined in section as they relate to the project objectives outlined in B. 2. Bear in mind that some unintended risks may be of positive nature for example particular consequence of the solution may risk goal to be achieved ahead of schedule. Risk Potential consequence Recommendation
Describe the justification behind choosing the solution outlined in section as it relates to the risk involved from section D. Web site domain URL
A Document from Proposal Pack

The editable Project Analysis Overview template - complete with the actual formatting, layout and graphics is available in the retail Proposal Packs.