Use the Subsidizing template to explain any topic having to do with subsidizing, or paying part of the cost for producing or acquiring something.
Proposal Pack today and have already nearly completed what would normally have taken us days of mental anguish to work through. You've got a great collection of products and I will not hesitate to recommend your company to colleagues."
Shane
Campaign Coalition
Produced by:
Proposal Kit
Category:
Software > Computer Software > Business & Productivity Software

4.9 stars, based on over
700 reviews
Related chapters may be used in conjunction with this chapter depending on your situation. Many related chapters are intended to be used together to form a more complex and integrated proposal.

Related Chapters: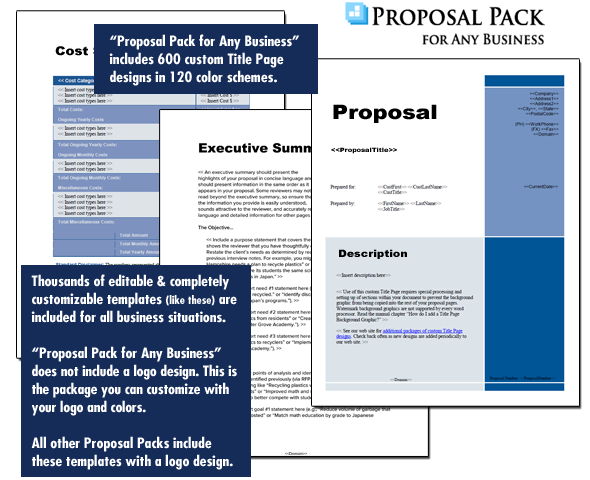 A proper business proposal will include multiple chapters. This is just one of many chapters that may be included in your proposal. The complete fill-in-the-blank template is included in our Proposal Pack template collections. A variety of sample proposals illustrating how companies in different industries both large and small have written proposals using our Proposal Packs are also included. This template will show you how to write the Subsidizing.
A wide variety of chapters are included and are intended to be picked based on your needs. All proposals are different and have different needs and goals. Pick the collection of chapters from our collection and organize them as needed for your proposal. Recommendations and samples provided are only intended as general guidelines.
Using the Proposal Pack template library you can create any kind of business proposal, report, study, plan or document
such as these
.
Writing the Subsidizing document
Use this template to explain any topic having to do with subsidizing or paying part of the cost for producing or acquiring something. For example your organization might be discussing plan to subsidize purchases of prescription drugs or assistance services for low income clients; or you might be describing available subsidies you want to apply for similar to applying for. Governmental charitable and even for profit organizations often have subsidy programs to ensure steady delivery of products or services to those who need them or to ensure that producers stay in business with reasonable income. For example many governments have subsidy programs to support agriculture and thus guarantee that farmers will continue to produce crops that the public can afford to buy. Introduce the topic of subsidies and explain their importance to your organization. Then discuss how the subsidy program works and your plans for using it. Be sure to provide all relevant details such as who is providing the funding the specific cases in which subsidies can be used how to apply for the subsidy and so forth.
A Document from Proposal Pack

The editable Subsidizing template - complete with the actual formatting, layout and graphics is available in the retail Proposal Packs.