This document is included in Estimate Pack which is only available as part of the Proposal Kit Professional bundle.
Order and download for $199.

DOWNLOADABLE, ONE-TIME COST, NO SUBSCRIPTION FEES

View Worksheet Sample
This is a sample spreadsheet filled out while estimating an average CD-ROM multimedia presentation.
on the Estimate Pack for providing comprehensive bids and breakdowns for each potential customer."
Brian S.
Simco Media
The actual document is delivered in the retail products as an editable template.
Produced by:
Proposal Kit
Category:
Software › Computer Software › Business & Productivity Software

4.9 stars, based on over
700 reviews
Category: Sample Spreadsheets
This is a sample spreadsheet filled out while estimating an average CD-ROM multimedia presentation.
Related documents may be used in conjunction with this document depending on your situation. Many related documents are intended for use as part of a project management system.

Related Documents: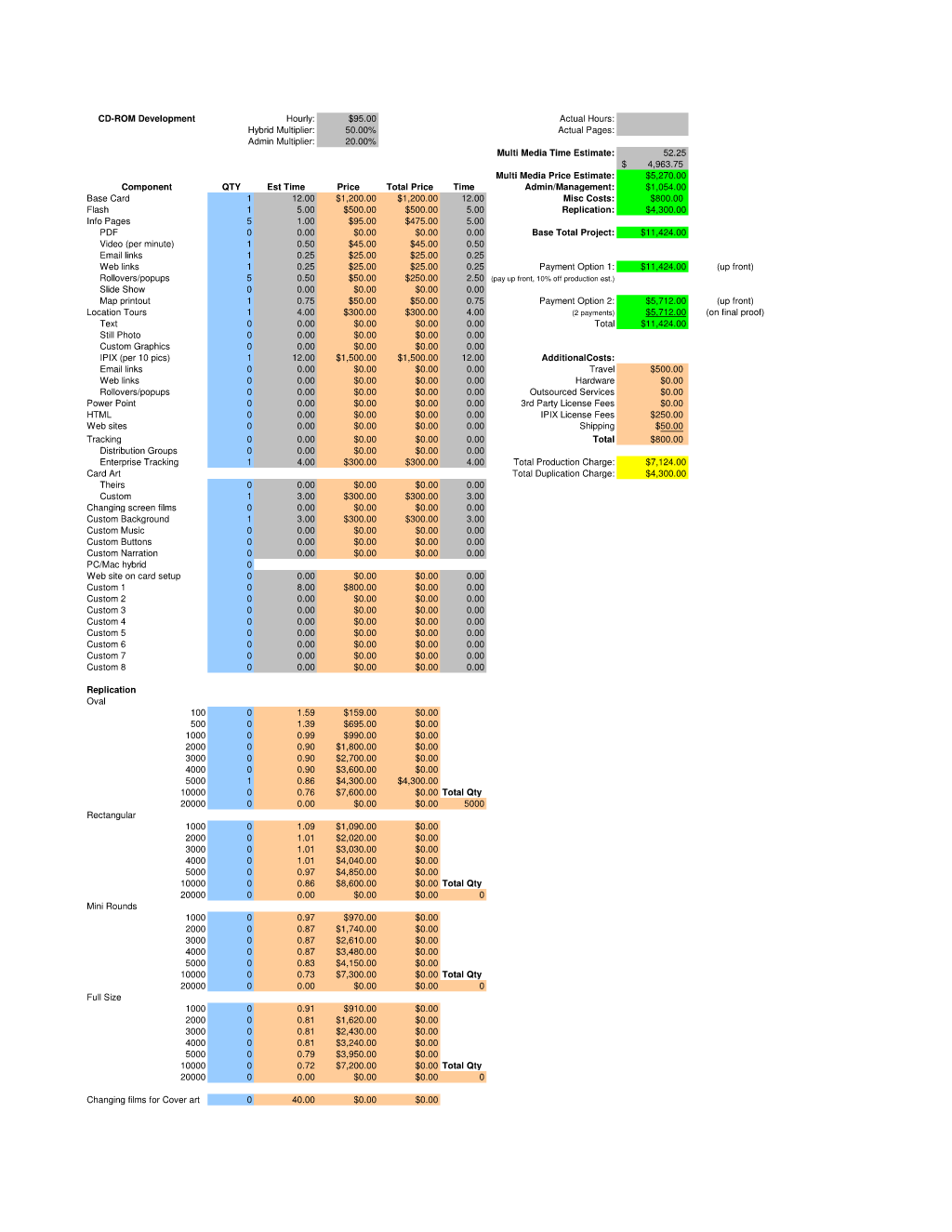 The Estimate Pack suite of templates compliments the proposal and contract documents by giving you a collection of project estimating spreadsheets to be used to help estimate the time requirements and costs of a project.

A wide variety of documents are included and are intended to be picked based on your needs. All projects are different and have different needs and goals. Pick the collection of documents from our collection and use them as needed for your project. Recommendations and samples provided are only intended as general guidelines.
Writing the CD-ROM Development Estimate Sample
ROM Development Hourly Actual Hours Hybrid Multiplier Actual Pages Admin Multiplier Multi Media Time Estimate Multi Media Price Estimate Component QTY Est Time Price Total Price Time Admin Management Base Card Misc Costs Flash Replication Info Pages PDF Base Total Project Video per minute Email links Web links Payment Option front Rollovers popups pay front off production est Slide Show Map printout Payment Option front Location Tours payments final proof Text Total Still Photo Custom Graphics IPIX per pics AdditionalCosts Email links Travel Web links Hardware Rollovers popups Outsourced Services Power Point 3rd Party License Fees HTML IPIX License Fees Web sites Shipping Tracking Total Distribution Groups Enterprise Tracking Total Production Charge Card Art Total Duplication Charge Theirs Custom Changing screen films Custom Background Custom Music Custom Buttons Custom Narration Mac hybrid Web site card setup Custom Custom Custom Custom Custom Custom Custom Custom Replication Oval Total Qty Rectangular Total Qty Mini Rounds Total Qty Full Size Total Qty Changing films for Cover art.

A Spreadsheet from Proposal Kit Professional

The editable CD-ROM Development Estimate Sample - complete with the actual formatting and layout is available in the retail Proposal Kit Professional.