This document is included in Estimate Pack which is only available as part of the Proposal Kit Professional bundle.
Order and download for $199.

View Worksheet Sample
This spreadsheet is used to help estimate the cost developing an e-commerce solution for a client.
on the Estimate Pack for providing comprehensive bids and breakdowns for each potential customer."
Brian S.
Simco Media
The actual document is delivered in the retail products as an editable template.
Produced by:
Proposal Kit
Category:
Software > Computer Software > Business & Productivity Software

4.9 stars, based on over
700 reviews
Category: Project Estimate Spreadsheets
This spreadsheet is used to help estimate the cost developing an e-commerce solution for a client.
Related documents may be used in conjunction with this document depending on your situation. Many related documents are intended for use as part of a project management system.

Related Documents: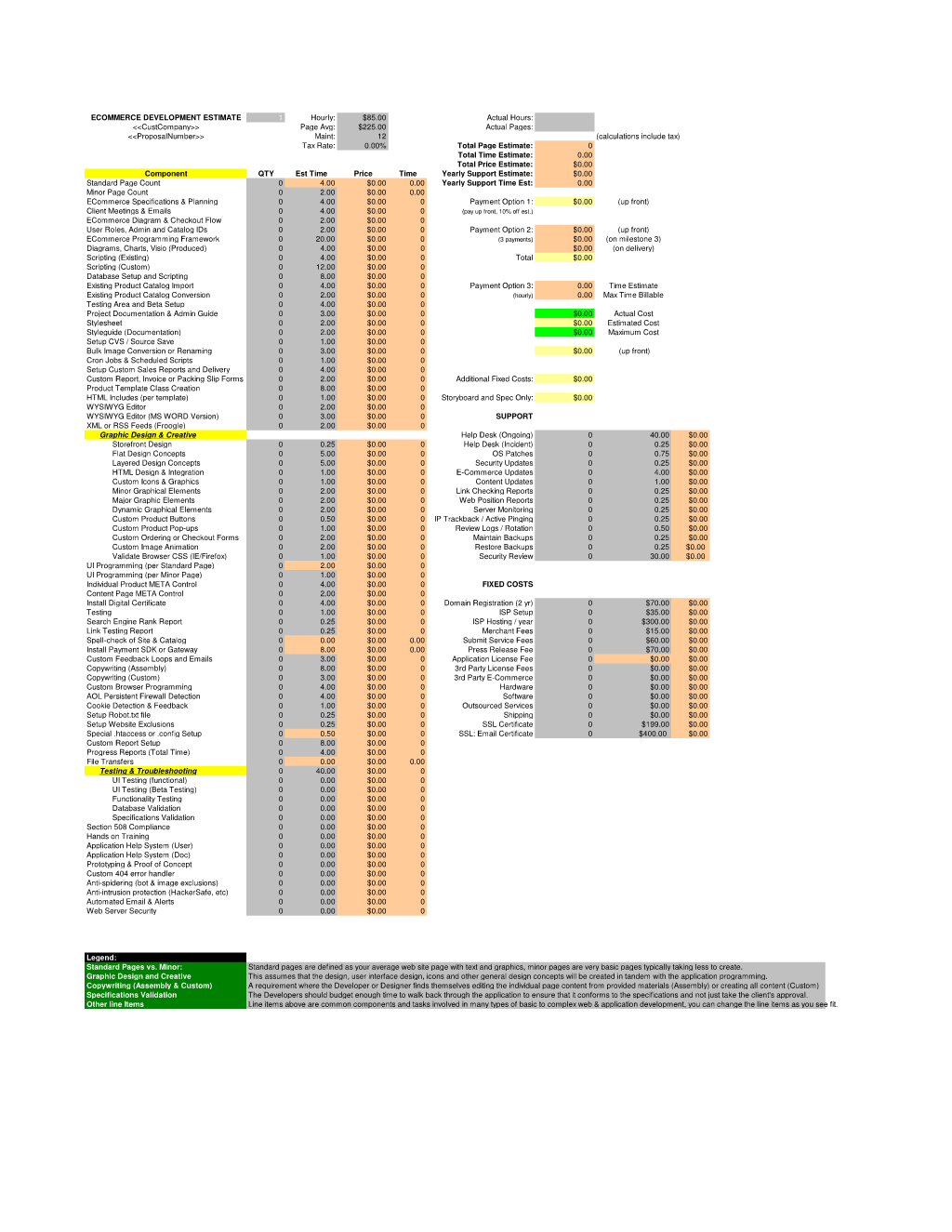 The Estimate Pack suite of templates compliments the proposal and contract documents by giving you a collection of project estimating spreadsheets to be used to help estimate the time requirements and costs of a project.

A wide variety of documents are included and are intended to be picked based on your needs. All projects are different and have different needs and goals. Pick the collection of documents from our collection and use them as needed for your project. Recommendations and samples provided are only intended as general guidelines.
How to write my E-Commerce Development Estimate Spreadsheet
ECOMMERCE DEVELOPMENT ESTIMATE Hourly Actual Hours Page Avg Actual Pages Maint calculations include tax Tax Rate Total Page Estimate Total Time Estimate Total Price Estimate Component QTY Est Time Price Time Yearly Support Estimate Standard Page Count Yearly Support Time Est Minor Page Count ECommerce Specifications Planning Payment Option front Client Meetings Emails pay front off est ECommerce Diagram Checkout Flow User Roles Admin and Catalog IDs Payment Option front ECommerce Programming Framework payments milestone Diagrams Charts Visio Produced delivery Scripting Existing Total Scripting Custom Database Setup and Scripting Existing Product Catalog Import Payment Option Time Estimate Existing Product Catalog Conversion hourly Max Time Billable Testing Area and Beta Setup Project Documentation Admin Guide Actual Cost Stylesheet Estimated Cost Styleguide Documentation Maximum Cost Setup CVS Source Save Bulk Image Conversion Renaming front Cron Jobs Scheduled Scripts Setup Custom Sales Reports and Delivery Custom Report Invoice Packing Slip Forms Additional Fixed Costs Product Template Class Creation HTML Includes per template Storyboard and Spec Only WYSIWYG Editor WYSIWYG Editor WORD Version SUPPORT XML RSS Feeds Froogle Graphic Design Creative Help Desk Ongoing Storefront Design Help Desk Incident Flat Design Concepts Patches Layered Design Concepts Security Updates HTML Design Integration Commerce Updates Custom Icons Graphics Content Updates Minor Graphical Elements Link Checking Reports Major Graphic Elements WebPosition Reports Dynamic Graphical Elements Server Monitoring Custom Product Buttons Trackback Active Pinging Custom Product Pop ups Review Logs Rotation Custom Ordering Checkout Forms Maintain Backups Custom Image Animation Restore Backups Validate Browser CSS Firefox Security Review Programming per Standard Page Programming per Minor Page Individual Product META Control FIXED COSTS Content Page META Control Install Digital Certificate Domain Registration Testing ISP Setup Search Engine Rank Report ISP Hosting year Link Testing Report Merchant Fees Spell check Site Catalog SubmitIt Fee Install Payment SDK Gateway Press Release Fee Custom Feedback Loops and Emails Application License Fee Copywriting Assembly 3rd Party License Fees Copywriting Custom 3rd Party Commerce Custom Browser Programming Hardware AOL Persistent Firewall Detection Software Cookie Detection Feedback Outsourced Services Setup Robot txt file Shipping Setup Website Exclusions SSL Certificate Special htaccess config Setup SSL Email Certificate Custom Report Setup Progress Reports Total Time File Transfers Testing Troubleshooting Testing functional Testing Beta Testing Functionality Testing Database Validation Specifications Validation Section Compliance Hands Training Application Help System User Application Help System Doc Prototyping Proof Concept Custom error handler Anti spidering bot image exclusions Anti intrusion protection HackerSafe etc Automated Email Alerts Web Server Security Legend Standard Pages Minor Standard pages are defined your average web site page with text and graphics minor pages are very basic pages typically taking less create Graphic Design and Creative This assumes that the design user interface design icons and other general design concepts will created tandem with the application programming Copywriting Assembly Custom requirement where the Developer Designer finds themselves editing the individual page content from provided materials Assembly creating all content Custom Specifications Validation The Developers should budget enough time walk back through the application ensure that conforms the specifications and not just take the client approval Other line Items Line items above are common components and tasks involved many types basic complex web application development you can change the line items you see fit.

A Spreadsheet from Proposal Kit Professional

The editable E-Commerce Development Estimate Spreadsheet - complete with the actual formatting and layout is available in the retail Proposal Kit Professional.