This document is included in Estimate Pack which is only available as part of the Proposal Kit Professional bundle.
Order and download for $199.

View Worksheet Sample
This spreadsheet is used to calculate the estimate for a Flash animation presentation.
on the Estimate Pack for providing comprehensive bids and breakdowns for each potential customer."
Brian S.
Simco Media
The actual document is delivered in the retail products as an editable template.
Produced by:
Proposal Kit
Category:
Software > Computer Software > Business & Productivity Software

4.9 stars, based on over
700 reviews
Category: Project Estimate Spreadsheets
This spreadsheet is used to calculate the estimate for a Flash animation presentation.
Related documents may be used in conjunction with this document depending on your situation. Many related documents are intended for use as part of a project management system.

Related Documents: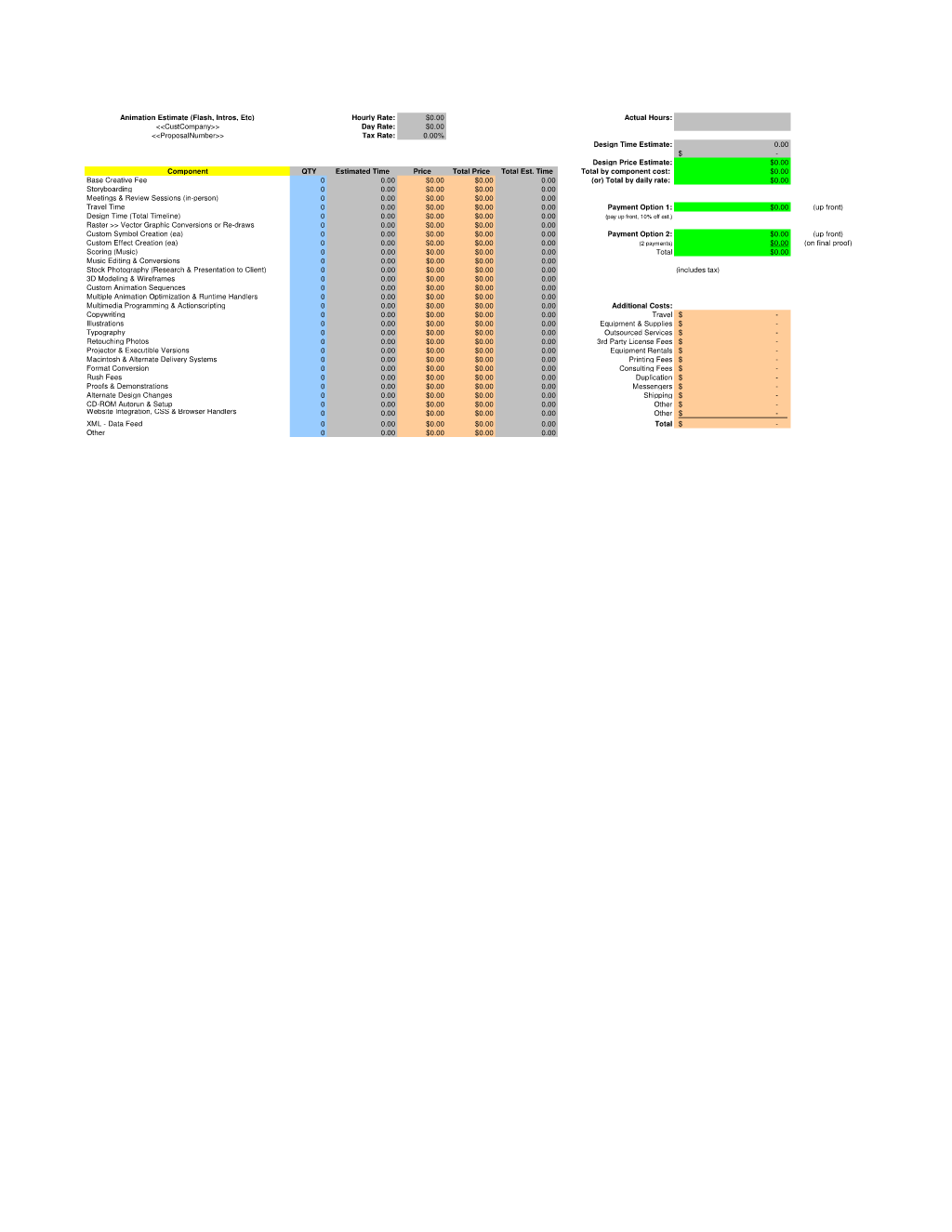 The Estimate Pack suite of templates compliments the proposal and contract documents by giving you a collection of project estimating spreadsheets to be used to help estimate the time requirements and costs of a project.

A wide variety of documents are included and are intended to be picked based on your needs. All projects are different and have different needs and goals. Pick the collection of documents from our collection and use them as needed for your project. Recommendations and samples provided are only intended as general guidelines.
How do you write a Flash Animation Project Estimate Spreadsheet?
Animation Estimate Flash Intros Etc Hourly Rate Actual Hours CustCompany Day Rate ProposalNumber Tax Rate Design Time Estimate Design Price Estimate Component QTY Estimated Time Price Total Price Total Est Time Total component cost Base Creative Fee Total daily rate Storyboarding Meetings Review Sessions person Travel Time Payment Option front Design Time Total Timeline pay front off est Raster Vector Graphic Conversions draws Custom Symbol Creation Payment Option front Custom Effect Creation payments final proof Scoring Music Total Music Editing Conversions Stock Photography Research Presentation Client includes tax Modeling Wireframes Custom Animation Sequences Multiple Animation Optimization Runtime Handlers Multimedia Programming Actionscripting Additional Costs Copywriting Travel Illustrations Equipment Supplies Typography Outsourced Services Retouching Photos 3rd Party License Fees Projector Executible Versions Equipment Rentals Macintosh Alternate Delivery Systems Printing Fees Format Conversion Consulting Fees Rush Fees Duplication Proofs Demonstrations Messengers Alternate Design Changes Shipping ROM Autorun Setup Other Website Integration CSS Browser Handlers Other XML Data Feed Total Other.

A Spreadsheet from Proposal Kit Professional

The editable Flash Animation Project Estimate Spreadsheet - complete with the actual formatting and layout is available in the retail Proposal Kit Professional.