This document is included in Estimate Pack which is only available as part of the Proposal Kit Professional bundle.
Order and download for $199.

View Worksheet Sample
This is a sample spreadsheet filled out while estimating a large scale web site project.
on the Estimate Pack for providing comprehensive bids and breakdowns for each potential customer."
Brian S.
Simco Media
The actual document is delivered in the retail products as an editable template.
Produced by:
Proposal Kit
Category:
Software > Computer Software > Business & Productivity Software

4.9 stars, based on over
700 reviews
Category: Sample Spreadsheets
This is a sample spreadsheet filled out while estimating a large scale web site project.
Related documents may be used in conjunction with this document depending on your situation. Many related documents are intended for use as part of a project management system.

Related Documents: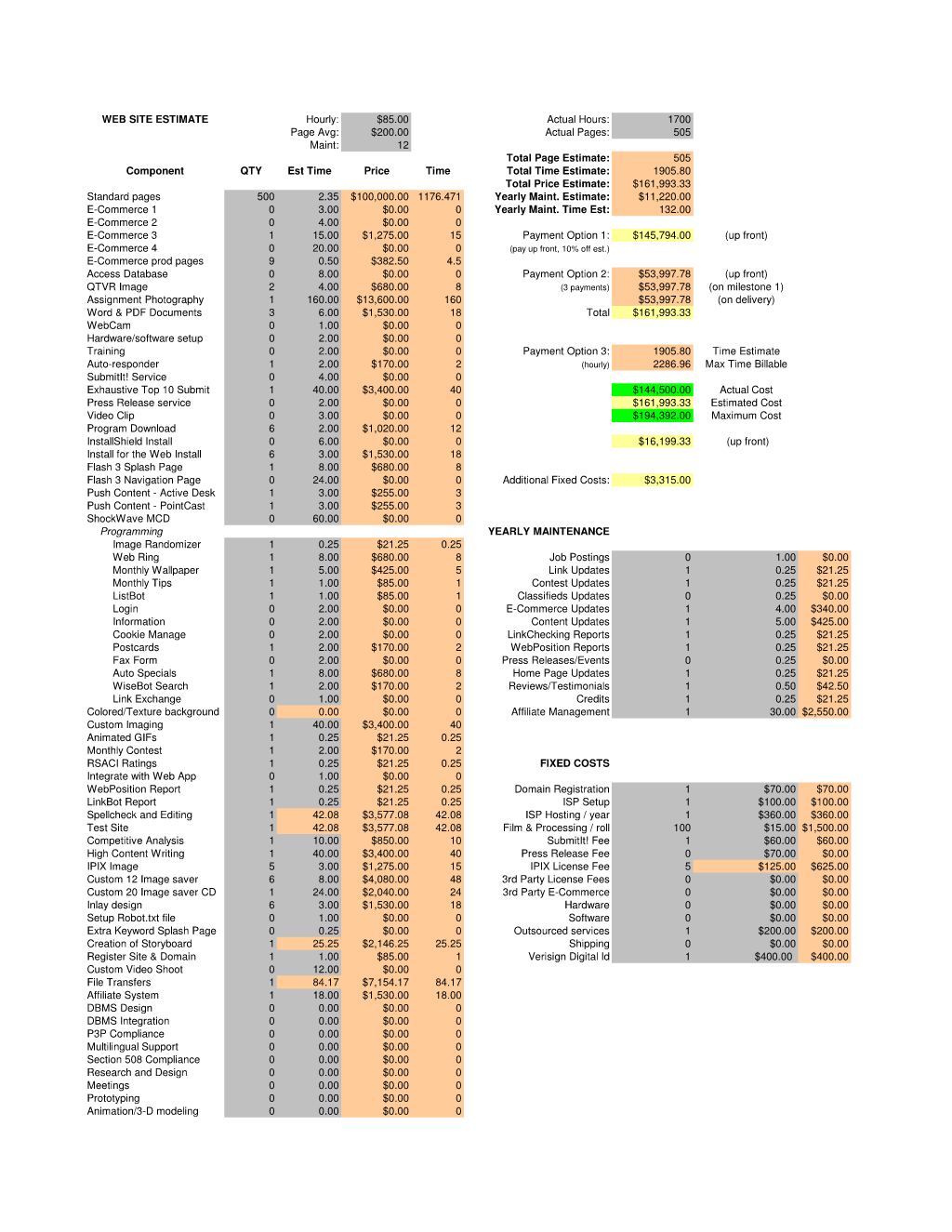 The Estimate Pack suite of templates compliments the proposal and contract documents by giving you a collection of project estimating spreadsheets to be used to help estimate the time requirements and costs of a project.

A wide variety of documents are included and are intended to be picked based on your needs. All projects are different and have different needs and goals. Pick the collection of documents from our collection and use them as needed for your project. Recommendations and samples provided are only intended as general guidelines.
Writing the Web Site Estimate Sample
WEB SITE ESTIMATE Hourly Actual Hours Page Avg Actual Pages Maint Total Page Estimate Component QTY Est Time Price Time Total Time Estimate Total Price Estimate Standard pages Yearly Maint Estimate Commerce Yearly Maint Time Est Commerce Commerce Payment Option front Commerce pay front off est Commerce prod pages Access Database Payment Option front QTVR Image payments milestone Assignment Photography delivery Word PDF Documents Total WebCam Hardware software setup Training Payment Option Time Estimate Auto responder hourly Max Time Billable SubmitIt Service Exhaustive Top Submit Actual Cost Press Release service Estimated Cost Video Clip Maximum Cost Program Download InstallShield Install front Install for the Web Install Flash Splash Page Flash Navigation Page Additional Fixed Costs Push Content Active Desk Push Content PointCast ShockWave MCD Programming YEARLY MAINTENANCE Image Randomizer Web Ring Job Postings Monthly Wallpaper Link Updates Monthly Tips Contest Updates ListBot Classifieds Updates Login Commerce Updates Information Content Updates Cookie Manage LinkChecking Reports Postcards WebPosition Reports Fax Form Press Releases Events Auto Specials Home Page Updates WiseBot Search Reviews Testimonials Link Exchange Credits Colored Texture background Affiliate Management Custom Imaging Animated GIFs Monthly Contest RSACI Ratings FIXED COSTS Integrate with Web App WebPosition Report Domain Registration LinkBot Report ISP Setup Spellcheck and Editing ISP Hosting year Test Site Film Processing roll Competitive Analysis SubmitIt Fee High Content Writing Press Release Fee IPIX Image IPIX License Fee Custom Image saver 3rd Party License Fees Custom Image saver 3rd Party Commerce Inlay design Hardware Setup Robot txt file Software Extra Keyword Splash Page Outsourced services Creation Storyboard Shipping Register Site Domain Verisign Digital Custom Video Shoot File Transfers Affiliate System DBMS Design DBMS Integration P3P Compliance Multilingual Support Section Compliance Research and Design Meetings Prototyping Animation modeling.

A Spreadsheet from Proposal Kit Professional

The editable Web Site Estimate Sample - complete with the actual formatting and layout is available in the retail Proposal Kit Professional.