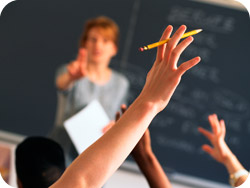 Are you a student who must complete a student project as part of your course work?
This generally means envisioning, planning for, and completing a project, writing a scholarly paper to describe the project, and doing a presentation before an audience.
The project itself can be almost anything the student has an interest in. For example, high school projects have been completed on food preservation, brain scan technology, and conducting public opinion surveys, just to name a few.
Before you can start your project, you most likely have to write a proposal to describe what you have in mind and get your project approved. Uh-oh, you may be thinking, I've never written a proposal in my life; I'm really not a writer. Don't worry - proposal writing is probably not as difficult as you think. You may have already been given a list of required pages by your teacher or mentor.
But in case you don't have that list of required pages, let's work from the first page of a proposal to the last. Keep in mind that you will also use most of these topics in your final paper describing your project, so including them in your proposal moves you one step closer to completion.
First of all, you might need a Cover Letter, simply stating that you're presenting this proposal for consideration or approval, and giving your name (and contact information if needed). Then you should probably include a Title Page, naming your proposal, something like "Proposal to Study the Recycling Program in Our City."
Next, you need a Goals or Objectives page, where you describe what you hope to accomplish with your project. For example, using the recycling project mentioned above, one of your objectives might be to document the flow of recycling in your area from curbside pickup to final destination; another might be comparing the cost of recycling to the cost that would be paid for not recycling.
You probably need a list of Resources, which could be people you will interview or Reference Materials you will study. An Assumptions page is often included, listing your best guesses about what will and won't be possible. If your project uses a lot of terminology, you might need a page of Definitions. You most definitely need a page about the Procedures you plan to use to accomplish your objectives, and you may need a Schedule page, too, to show when your procedure steps will take place. If you need to report in periodically, you might want to include a Reporting page that states at what points and how you will check in with your advisor about how the project is going. And you probably need a presentation page to describe how you will do your presentation and what it will contain.
In your final paper, you'll use all the pages mentioned above, but you'll also need to include annotations and a Bibliography showing the reference materials you used. You'll also need pages with titles like Results and/or Conclusions to show the end result of your project.
Before you turn in your proposal or your final scholarly paper on your project, be sure to spell-check and proofread every page so you sound like a professional writer, and make sure each page looks professional, too.
You may be required to use a specific format for your student project. But if you're free to decide how to put your pages together, you might want to start off with a product like Proposal Kit, which is designed for writing proposals and studies of all kinds. It contains thousands of templates for all sorts of topics, and each template has instructions and examples about what might be included on that page - these are not there to tell you precisely what to do, but as reminders of information you might want to use.
Proposal Kit also contains lots of sample proposals for all kinds of businesses, grants, and studies - you can look at these to get great ideas on what to add to your proposal. You can choose various graphic designs, too, to make your paper look great. Other members of your family may be interested in using Proposal Kit, too, to create all sorts of business documents and research papers.
You should now be able to see your way forward to writing your student project proposal. Good luck on getting an excellent grade and lots of applause for your presentation!
After you have all the information written for your proposal, work on making your proposal visually appealing. Add some color and graphics by incorporating your company logo, using colored borders, and selecting custom bullet points and fonts that match your business's style. Learn how to effectively select colors for a winning business proposal.

Proposal Pack for Any Business covers all types of proposals and includes samples and topics for this type of proposal. There are also many specialty design themes available you can use to match the visual design to your logo or type of business. Select any one Proposal Pack and you are covered.
Another type of student project proposal is one where the student has been tasked with writing a business proposal for a hypothetical situation. Proposal Kit is also well suited for creating these types of student project proposals.
You would assemble a proposal framework from the pre-designed proposal templates, and using the instructions and examples as guides, fill them in with your own hypothetical information. Looking at the large collection of included sample proposals will give you a big head start deciding what types of topics to write about, what to say, and what types of numbers to put into your hypothetical costs, budgets, and so on.
One thing to keep in mind is to not directly copy samples for your student projects. It may be tempting to shortcut the writing process however most teachers and educational institutions are well aware of how easy it is for students to copy material from online sources - and may be using plagiarism detecting software which would easily trace any copies of Proposal Kit samples back to their source. So use Proposal Kit templates as a framework to create your custom student project proposal - and only use the completed samples and examples as guidelines to help give you ideas on how to do write your own versions.