This document is included in Project Management Pack which is only available as part of the Proposal Kit Professional bundle.
Order and download for $199.

View Document Sample
This document is intended for internal use only. Use it along with the Interview Worksheet to help estimate the size and scope of the project.
Document Length: 1 Page
and forms contained within the Proposal Kit helps me organize and accurately bid jobs for clients. Using the Proposal Kit is a big timesaver and it limits project creep. Necessary upfront planning is covered by the client interview questionnaire, flowcharts and design tools."
Don Kinney
Earth Solutions
The actual document is delivered in the retail products as an editable template.
Produced by:
Proposal Kit
Category:
Software > Computer Software > Business & Productivity Software

4.9 stars, based on over
700 reviews
Category: Project Worksheets
This document is intended for internal use only. Use it along with the Interview Worksheet to help estimate the size and scope of the project.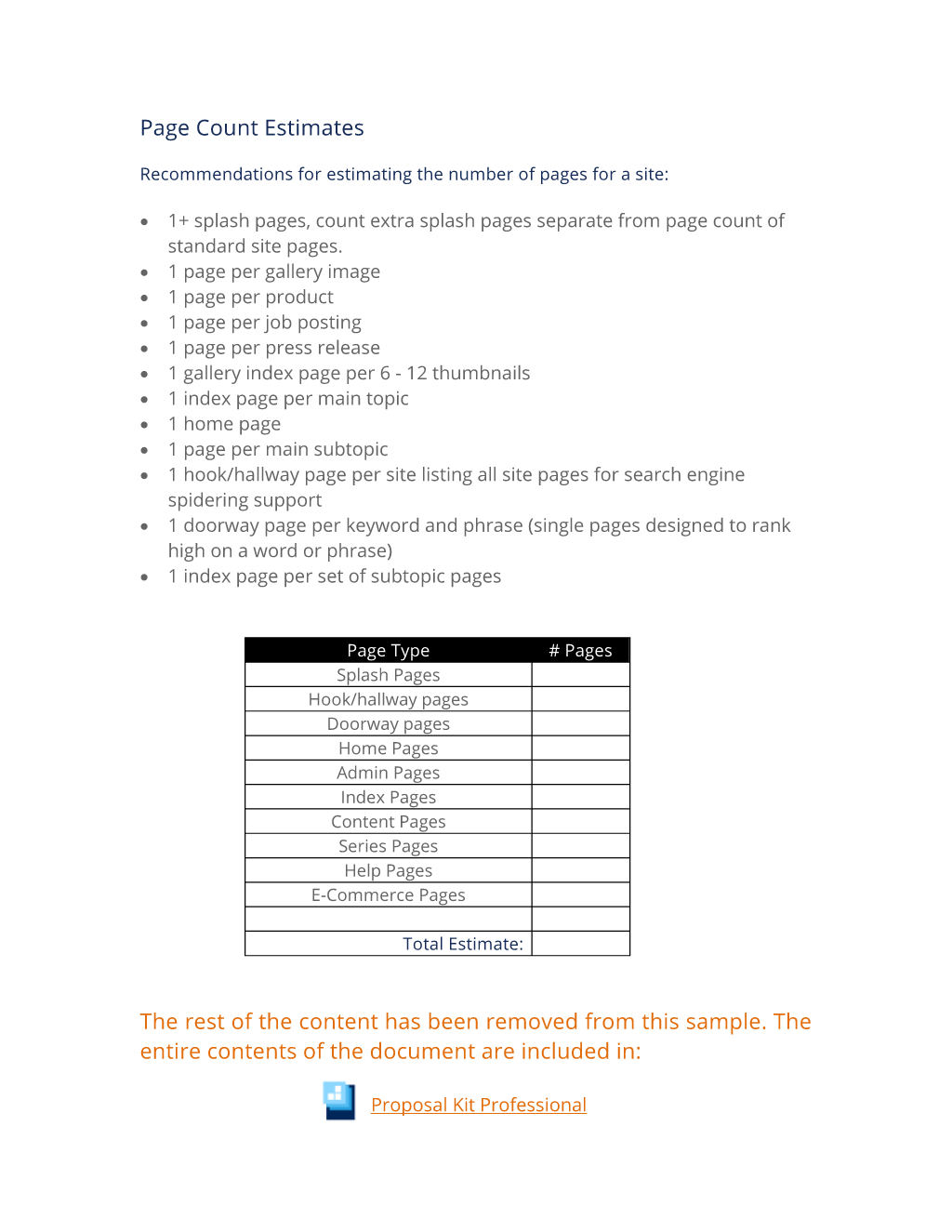 The Project Management Pack suite of templates compliments the proposal and contract documents by giving you a collection of business documents to be used once you have a project to work on.

A wide variety of documents are included and are intended to be picked based on your needs. All projects are different and have different needs and goals. Pick the collection of documents from our collection and use them as needed for your project. Recommendations and samples provided are only intended as general guidelines.
How do you write a Page Count Estimates document?
Page Count Estimates Recommendations for estimating the number of pages for site. * 1+ splash pages count extra splash pages separate from page count of standard site pages. * page per gallery image * page per product
* page per job posting * page per press release * gallery index page per thumbnails * index page per main topic * home page * page per main subtopic
* hook hallway page per site listing all site pages for search engine spidering support * doorway page per keyword and phrase single pages designed to rank high on word or phrase * index page per set of subtopic pages * Create comprehensive storyboard layout to generate page count estimate based on components and pages required. Page Type Pages Splash Pages Hook hallway pages Doorway pages Home Pages Admin Pages Index Pages Content Pages Series Pages Help Pages Commerce Pages Affiliate Management Pages Total Estimate. Standard Page Definition limit content client receives per page for this estimate. * Follows our pre existing page templates completely custom sites may incur higher costs per page.
* Body contains up to unique images minimal scan edit crop compress minutes each * to screens of text. * Up to hyperlinks * Includes the building of the basic navigation systems built into each page. Creation of the graphical menu bar with image slicing and rollovers is rolled into the base price per page. Time estimates account for setup analysis design implementation research information gathering customer queries multiple iterations of design layout testing etc. for each component and page.
A Document from Proposal Kit Professional

The editable Page Count Estimates document - complete with the actual formatting and layout is available in the retail Proposal Kit Professional.