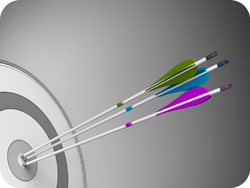 The product was Proposal Kit Professional My review was called Close the Sale With Proposal Kit and I've had a lot of feedback from readers of that article, thanking me for introducing them to the product.
In case you're not already familiar with the software, Proposal Kit Professional takes the guesswork out of drafting a proposal, report, or contract. The product automates the chore of putting together a complex business proposal. Basically, Proposal Kit Professional provides a comprehensive range of templates to suit any business requirement and it helps you build a framework for your proposal to match virtually any product or service offering. You then flesh out the templates with your own data and contact details. There are many templates suited to all types of businesses; these include documents for the initial sales pitch, the planning stage, estimating, contracting, project timelines, analysis and even invoicing.
I've been using Proposal Kit Professional for over 8 months now and I am still as enthusiastic about it as ever. So when developers of the product told me of their latest upgrade this month, I was very excited.
You see, amongst the many new contract templates available in the latest versions of Proposal Kit Professional is a Search Engine Optimization Services Contract, designed for SEOs just like me.
Proposal Kit Professional
Many more elements have been incorporated in the Proposal Kit products in addition to the contract updates. See the entire list of new and updated material here.
Click Here for details on Proposal Kit Professional pricing, a product comparison chart and information on how to upgrade.
Now, about that SEO Services Contract that I'm so excited about. Having run an SEO business for over five years now, I KNOW how difficult it is to produce a reliable, standard contract to give to SEO clients. Search engine optimization can be such a complex process that it is vitally important that your client contract spells out your services, pinpoints the delivery schedule, and describes the responsibilities and campaign expectations while addressing all areas of potential client confusion.
And that's just one contract. You'll find hundreds of contract templates included in Proposal Kit's proposal products. These can save your organization a good deal of time and money.
Even if your business already has a standard contract in place (or multiple standard contracts), the purchase price of Proposal Kit Professional (which comes with the SEO contract included) is well worth the investment to be able to compare your current contracts with the detailed samples provided. Something important for you to keep in mind is that legal contracts in the Proposal Kit Professional should not be viewed as binding legal documents until they are reviewed by your company lawyer. Because every business has different products, services, and clients and each organization operates in different geographical environments, legal requirements vary widely.
However, the contract templates included in the proposal products offer any business a great jump start that can save that business a substantial amount of money in legal fees. By all means, use the contract templates to draft your contract, and then make sure you have the document carefully reviewed by your company law firm to ensure it meets your specific legal requirements for the jurisdiction in which you are doing business. This point is emphasized with wording within the contract templates and is the same basic disclaimer you would get on any contract purchased anywhere else.
Not all sections of the SEO Contract will apply to every search engine optimization business, particularly those clauses listed under "Services Provided", but the document is so comprehensive that you can mix and match the various sections and clauses that are specifically relevant to your business, such as "Delivery Dates and Milestones", "Web Page Creation, Edits and Custom Programming" and "Keyword Selection".
I've already spotted three or four important clauses in Proposal Kit's contract that our existing client contract overlooks. I'm sure this is true of all the contracts included in the packages. You can just keep the sections that make sense for your business and your particular project, modify clauses as needed, and delete the sections or phrases that are not of use to you in your specific situation. The product makes it easy for you to create basic legal documents that your attorney can then finesse for you.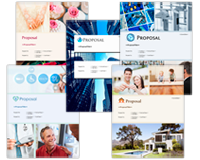 Not only is there an SEO Contract, the product includes all of the technical business proposal topics needed to write SEO services proposals and even includes complete sample proposals that include SEO services to use as guides.
So far I've emphasized only the contract section of the product, and I've mainly talked about the SEO business, because that's my world. But that's not all there is to Proposal Kit Professional. You'll also get the benefit of having access to thousands of professional proposal templates from which to pick and choose to match your business requirements, whatever those might be.
And there's a long list of samples, too - business proposals, reports, studies, announcements, and so forth. You can look at these to see all the ways that Proposal Kit could be used for almost any sort of business. Although it might be hard for me to imagine all the different uses for all those templates, I can imagine how you could find yourself getting excited about many different portions of the product that have absolutely nothing to do with the SEO business. You can choose from a lot of different 'looks,' too, with cool graphic design themes, or you can add your own company logo and such - whatever suits your needs. So you can make sure that your proposal or report or flyer shows your organization's personality.
So, in summary, I'd say to you smaller SEOs or to those just starting out in the industry, the latest version of Proposal Kit Professional could save you a fortune and give your business a much needed injection of professionalism. Of course that goes for non-SEO businesses too. :-)
Copyright © Kalena Jordan / CEO of Web Rank. All rights reserved under U.S. and international law.
Kalena was one of the first search engine optimization experts in Australasia and is well known and respected in her field.
The original review was of a past version of Proposal Kit Professional by SEO (Search Engine Optimization) specialist Kalena Jordan of Web Rank Ltd. This review focuses on just one document for one niche out of an entire collection of thousands of pages of material for many different web, computer and other technology specialties the Proposal Kit is designed for. This article has been updated to be current with the latest Proposal Kit release.