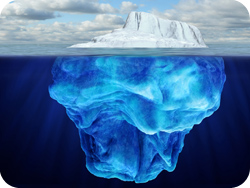 Many business software solutions can have hidden costs, subscription fees, maintenance plans, consulting services, etc. that you may not realize up front. Some of these costs such as monthly or yearly subscription fees will make the initial costs seem lower.
Thankfully, Proposal Kit is designed and priced to keep the upfront and ongoing costs low. You can make use of your own existing office software. There are no subscription fees and no required ongoing fees. Make sure the costs you are incurring up-front are not the tip of a hidden iceberg.
Also, you've decided that it would be wise to have on hand all the legal documents you need to safely and efficiently handle your business contracts. So, in other words, you want to set up an efficient proposal and contract management system for your organization.
Odds are that you've already got some sort of office set up, even if it's just a table in your basement, and now you're looking for proposal and contract software that will fit into your current arrangement.
How much is this going to cost? The answer to that question depends on what sort of hardware and software you're already using, how much you want to spend, and how computer-savvy you are in general.
Let's have a look at the total costs involved in setting up a proposal and contract management system for your organization, taking into consideration all the software you'll need to put together a complete functional system.
When you download and use Proposal Kit Professional or any of our related products, you can get started writing proposals or modifying our contract templates without having to purchase ANY other software. With most other proposal and contract products on the market you are forced to use Microsoft Word and you'll often need Adobe Acrobat, too, which means that if you don't already own Word and Adobe Acrobat, you have to buy additional software to support the entire business process of creating and delivering your proposals and contracts. These purchases can easily add a thousand dollars to your setup costs.
Our Proposal Kit products work with Microsoft Word, too, but there are also other alternatives you can consider. There are many different combinations of third party software to choose from, with prices ranging from free to expensive, which our Proposal and Contract products will work with.
In the following section, we've provided examples of possible combinations of third party software which can be used with our Proposal Kit products. Please note that these are not recommendations for these products. It is your responsibility to determine the suitability of any particular platform based on your experience and current office setup, as well as your organization's needs and software budget.
Examples listed below are arranged in order of the most common combinations that our Proposal Kit Professional, Proposal Pack and Contract Pack customers tell us they are currently using.
Example 1 (Typical Business Software):
Operating System: Microsoft Windows
Office Suite: Microsoft Office
PDF Export: Adobe Acrobat
Graphics Software: Any Adobe, Macromedia or Corel software
This is the combination you will most likely have to choose if you use any other company's proposal and contract tools which are built on Microsoft Word. This array of products can add another one thousand dollars to your total cost on top of what the proposal writing and contract applications cost.
While Example 1 is also the most common platform employed by our customers, it is only one possible combination of third-party software you can use with our Proposal Kit and related products.
Example 2 (Small Business on a Budget Software):
Operating System: Microsoft Windows
Office Suite: OpenOffice.org (free)
PDF Export: (built into OpenOffice.org) (free)
Graphics Software: None or GIMP (free)
If you use one of our Proposal Packs and use the stock designs in the package, you do not need a graphics program to put a high quality professional finish on your proposal documents because the Proposal Packs templates include graphic designs. The free OpenOffice.org will most likely meet most, if not all, of your initial needs. Most customers will already be using some version of the Microsoft Windows operating system. If you do not already possess a suite of office software applications, you should consider using OpenOffice.org, because it will save you hundreds of dollars you'll otherwise spend buying both an office suite like Microsoft Office and Adobe Acrobat PDF software.
Example 3 (Macintosh Software):
Operating System: Macintosh OS X
Office Suite: Microsoft Office X
PDF Export: Adobe Acrobat
Graphics Software: Macromedia, Corel, and so forth
If you are a Macintosh user, you can choose from among many options available for graphics software but you'll have very few choices for business development applications. Appleworks is a low-cost office suite solution; however, generally speaking, you will get better results using any version of Microsoft Office for the Mac. If you are fairly computer savvy with your Mac, the OpenOffice.org office suite is now supported on Mac OS X. Click here for the free OpenOffice.org for Mac OS X.
Macintosh users are more and more frequently running Windows in a dual boot platform on their Macintosh computers. This allows them to run office software not typically supported on the Macintosh without having to purchase multiple physical computers. This option also allows the use of our Proposal Pack Wizard software which is the only Proposal Kit product that is not natively supported on the Macintosh.
Example 4 (Free Open Source Linux Software):
Operating System: Linux (free)
Office Suite: OpenOffice.org (free)
PDF Export: (built into OpenOffice.org) (free)
Graphics Software: GIMP (free)
If you are computer savvy, the combination of the Linux operating system and OpenOffice.org office suite system can be a very low cost solution to getting your business started. You should note, however, that this is still not yet a mainstream solution and there is not a lot of support easily available if you have problems setting up the software.