The Back Page Generic is a compliment to the front Title Page. The Back Page Generic is a final ending page for a longer document with a background design that compliments the front Title Page design. This page usually includes the company logo and basic contact information. This is the generic version that only has some basic square shape objects that can be set to a specific color scheme. The standard Back Page uses a full page graphic image for the background design.
incredibly easy way to put together the framework for each proposal so all I had to do was fill in the pages with my content and specifics. It also gave me ideas of information to include in a proposal that I never thought of before making the end proposal more complete and ultimately winning more projects."
J.K.
Fly Alaska
Produced by:
Proposal Kit
Category:
Software > Computer Software > Business & Productivity Software

4.9 stars, based on over
700 reviews
Alternate chapters are those which may be used instead of this chapter depending on your situation. Alternate chapters may be better suited for different size projects, more specialized projects, variations on rights, etc.

Alternate Chapters:
Related chapters may be used in conjunction with this chapter depending on your situation. Many related chapters are intended to be used together to form a more complex and integrated proposal.

Related Chapters: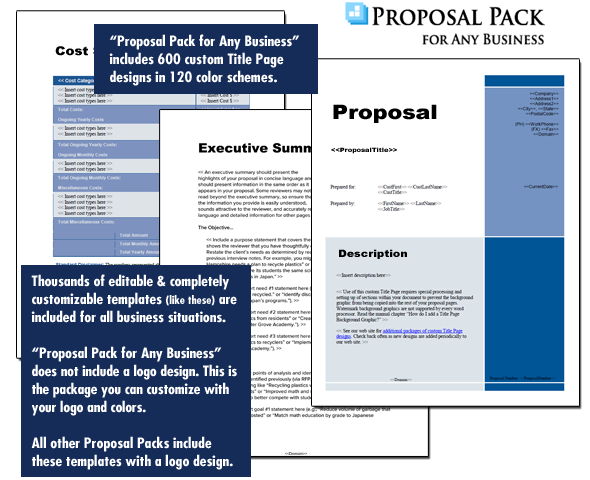 A proper business proposal will include multiple chapters. This is just one of many chapters that may be included in your proposal. The complete fill-in-the-blank template is included in our Proposal Pack template collections. A variety of sample proposals illustrating how companies in different industries both large and small have written proposals using our Proposal Packs are also included. This template will show you how to write the Back Page Generic.
A wide variety of chapters are included and are intended to be picked based on your needs. All proposals are different and have different needs and goals. Pick the collection of chapters from our collection and organize them as needed for your proposal. Recommendations and samples provided are only intended as general guidelines.
Using the Proposal Pack template library you can create any kind of business proposal, report, study, plan or document
such as these
.
How do you write a Back Page Generic document?
COLOR3 COLOR1 COLOR2 Company name Address Address City State or province Zip or postal code
Phone number Fax number Web site domain URL
A Document from Proposal Pack

The editable Back Page Generic template - complete with the actual formatting, layout and graphics is available in the retail Proposal Packs.