This chapter template is included in every Proposal Pack along with thousands more chapter templates.
Order and download for $79.

DOWNLOADABLE, ONE-TIME COST, NO SUBSCRIPTION FEES
Use the Bookkeeping page to describe the services you propose for posting and maintaining financial records for your clients organization or for your own. You may also need to describe reporting requirements, tax payments, and other bookkeeping matters specific to a particular business.
The Networks Proposal Packs saves me a lot of time when responding to RFPs and I feel confident presenting my proposals. The information is organized well and is in a format that makes it easy for the appropriate persons to locate what is important to them. I highly recommend Proposal Packs."
Morris Driver
Technology Services Manager
DTC, LLC
Produced by:
Proposal Kit
Category:
Software › Computer Software › Business & Productivity Software

4.9 stars, based on
837 reviews
Related chapters may be used in conjunction with this chapter depending on your situation. Many related chapters are intended to be used together to form a more complex and integrated proposal.

Related Chapters: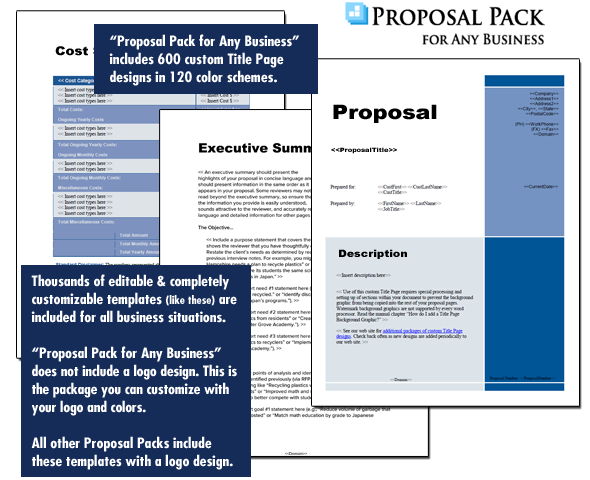 A proper business proposal will include multiple chapters. This is just one of many chapters that may be included in your proposal. The complete fill-in-the-blank template is included in our Proposal Pack template collections. A variety of sample proposals illustrating how companies in different industries both large and small have written proposals using our Proposal Packs are also included. This template will show you how to write the Bookkeeping.
A wide variety of chapters are included and are intended to be picked based on your needs. All proposals are different and have different needs and goals. Pick the collection of chapters from our collection and organize them as needed for your proposal. Recommendations and samples provided are only intended as general guidelines.
Using the Proposal Pack template library you can create any kind of business proposal, report, study, plan or document
such as these
.
How to write my Bookkeeping document
Use this page to describe the services you propose for posting and maintaining financial records for your client's organization or for your own. You may need to include in your discussion the names of responsible parties; the bookkeeping routines and software used; the types of transactions to be recorded; and how and when you will record and report financial transactions. You may also need to describe reporting requirements tax payments and other bookkeeping matters specific to particular business. Note that Proposal Pack includes specific financial templates for presenting actual figures such as Break Even Analysis Cash Flow Analysis Cost Benefit Analysis Profit & Loss Statement Financial Statement and many others. Introduce the general topic of bookkeeping here and explain why you are including this page. For example must you account for every penny that flows through your organization or your project. Are you offering bookkeeping services that your client needs. Explain the typical types of records you expect to maintain and describe how you will do that by filling in the categories below. You may need to add headings that are specific to bookkeeping practices for your particular type of business. Overview Insert general description of the bookkeeping practices here. For example you might want to describe your personnel and their experience basic bookkeeping methods software used and so forth. Bookkeeping Schedules Insert discussion of typical bookkeeping timelines here. For example how long does it take transaction to be recorded how often are accounts reconciled when are reports made available. Reporting Insert discussion of what sort of reports will be provided when and to whom. For example you might need to update customer's online account within seconds after each transaction is recorded provide daily transaction record to supervisor provide quarterly records to stockholders and taxing authorities and provide yearly summaries for annual reports. Be as specific as possible about who performs the tasks when they will happen and how they will be done.
Audits Every bookkeeping system should be periodically audited to ensure that all transactions are accounted for in legal ways. Explain how often the accounts will be audited by whom and how results will be reported. You may also want to explain how needed changes or corrections will be made if an audit indicates problem. Taxes Unless you have already covered this topic under Reporting explain how and when all required taxes will be calculated and paid. Summary Summarize the topic of bookkeeping here highlighting any points you want to emphasize and referring to other pages as needed to provide details.
A Document from Proposal Pack

The editable Bookkeeping template - complete with the actual formatting, layout and graphics is available in the retail Proposal Packs.