This chapter template is included in every Proposal Pack along with thousands more chapter templates.
Order and download for $79.

DOWNLOADABLE, ONE-TIME COST, NO SUBSCRIPTION FEES
Use the Change Management template to describe the plan you have for managing changes in your organization, or that you are proposing to institute for a client in the context of this proposal.
At first I was reluctant to purchase Proposal Pack and thought it would be just like the others on the market but boy was I wrong! There are so many templates to chose from and it is so easy to customize them. Writing proposals has never been so simple. This was one of the best purchases we made for our organization!"
Myrlene Hoyte
Senior Way Housing, Inc.
Produced by:
Proposal Kit
Category:
Software › Computer Software › Business & Productivity Software

4.9 stars, based on
812 reviews
Related chapters may be used in conjunction with this chapter depending on your situation. Many related chapters are intended to be used together to form a more complex and integrated proposal.

Related Chapters: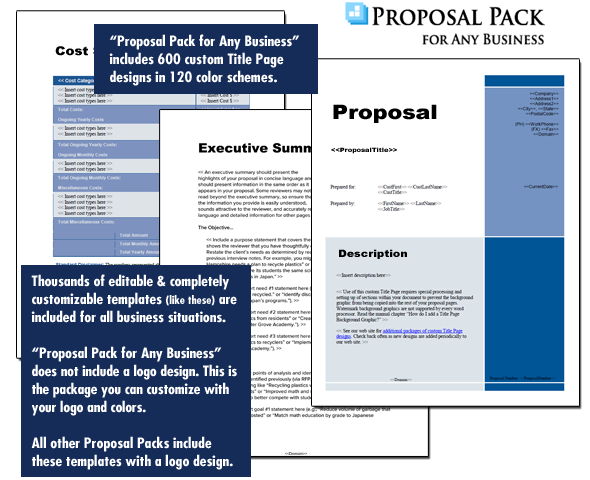 A proper business proposal will include multiple chapters. This is just one of many chapters that may be included in your proposal. The complete fill-in-the-blank template is included in our Proposal Pack template collections. A variety of sample proposals illustrating how companies in different industries both large and small have written proposals using our Proposal Packs are also included. This template will show you how to write the Change Management.
A wide variety of chapters are included and are intended to be picked based on your needs. All proposals are different and have different needs and goals. Pick the collection of chapters from our collection and organize them as needed for your proposal. Recommendations and samples provided are only intended as general guidelines.
Using the Proposal Pack template library you can create any kind of business proposal, report, study, plan or document
such as these
.
How to write my Change Management document
Use the Change Management template to describe the plan you have for managing changes in your organization or that you are proposing to institute for client in the context of this proposal. The theory behind change management is that any organization should document how knowledge is stored within the organization and how it is passed between employees or to other companies. Change management should also show how an organization is prepared to deal with an unexpected change in situation for example the sudden death of key executive merger with another organization legislative change that renders standard procedures without major disruption of the normal organizational processes. A change management plan should include established procedures for documenting an organizations current knowledge e. g. writing down current procedures and important information such as vendor contacts or chemical procedures for disseminating information from one party to another this can be as simple as storing all important information on server to which all employees have access procedures for analyzing new information or situations and procedures for routine evaluations of the state of the organization e. g. weekly status meetings quality control checks scheduled reviews or audits. Documentation of Current Situation Describe how you will preserve the current state of knowledge within the organization. Include names or titles of parties responsible for maintaining this information. Dissemination of Information
Describe how you will pass important information within the organization from one employee or group to another. Include names or titles of parties responsible for disseminating this information. Analysis of New Data and Determination of Changes Needed Describe how you will analyze any change and decide how it may affect the organization. Include the names of parties responsible for seeking and analyzing new data. For example this analysis might take place in weekly managers meeting in which market reports and budgets are discussed. Evaluations of Status Describe how you will routinely evaluate the status of the organization to determine if change is needed or if planned change is taking place effectively.
A Document from Proposal Pack

The editable Change Management template - complete with the actual formatting, layout and graphics is available in the retail Proposal Packs.