Use the Convoys template to describe your proposal to form a convoy of vehicles to move equipment and personnel. This might be a topic in a transportation, logistics, or military-related proposal.
Packs summarize in the best of fashion all the finest practices for businesses in their dealings with customers, mostly because they remain focused on the client's solution, giving back to the customer the control over his project."
Ivan Stankovic
e-nstitute, Inc.
Produced by:
Proposal Kit
Category:
Software > Computer Software > Business & Productivity Software

4.9 stars, based on over
700 reviews
Related chapters may be used in conjunction with this chapter depending on your situation. Many related chapters are intended to be used together to form a more complex and integrated proposal.

Related Chapters: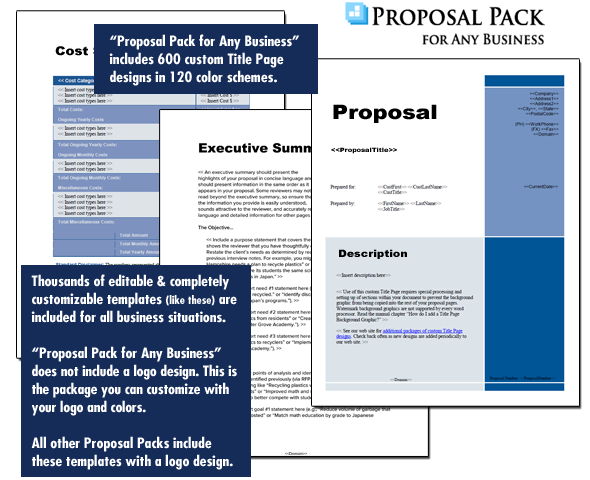 A proper business proposal will include multiple chapters. This is just one of many chapters that may be included in your proposal. The complete fill-in-the-blank template is included in our Proposal Pack template collections. A variety of sample proposals illustrating how companies in different industries both large and small have written proposals using our Proposal Packs are also included. This template will show you how to write the Convoys.
A wide variety of chapters are included and are intended to be picked based on your needs. All proposals are different and have different needs and goals. Pick the collection of chapters from our collection and organize them as needed for your proposal. Recommendations and samples provided are only intended as general guidelines.
Using the Proposal Pack template library you can create any kind of business proposal, report, study, plan or document
such as these
.
Writing the Convoys document
Use this template to describe your proposal to form convoy of vehicles to move equipment and personnel. This might be topic in transportation logistics or military related proposal. Introduce the concept of convoy here and explain why it is important to discuss convoys at this time. Security considerations and the convenience of keeping group together are the two main reasons for vehicles to travel in convoy. Describe the proposed convoy here. few issues to consider when discussing convoys are the number and type of vehicles to include the order of vehicles often determined by the cargo carried by vehicles and the security needed to protect vehicles and cargo time of assembly and length of travel time and communication between vehicles in the convoy while en route to their destination.
A Document from Proposal Pack

The editable Convoys template - complete with the actual formatting, layout and graphics is available in the retail Proposal Packs.