This chapter template is included in every Proposal Pack along with thousands more chapter templates.
Order and download for $79.

DOWNLOADABLE, ONE-TIME COST, NO SUBSCRIPTION FEES
Use this template to describe any dependencies your project may have. Dependencies can be almost any sort of link or association in which a change in one area may cause a change elsewhere.
This is a pretty awesome product! We do a lot of short turnaround 25-30 page task order proposals and for that alone, this is a great tool! Thanks for the great support in getting this downloaded correctly, much appreciated."
Steve Rose
Senior Vice President, Operations
AOC Support Services, LLC
Produced by:
Proposal Kit
Category:
Software › Computer Software › Business & Productivity Software

4.9 stars, based on
830 reviews
Related chapters may be used in conjunction with this chapter depending on your situation. Many related chapters are intended to be used together to form a more complex and integrated proposal.

Related Chapters: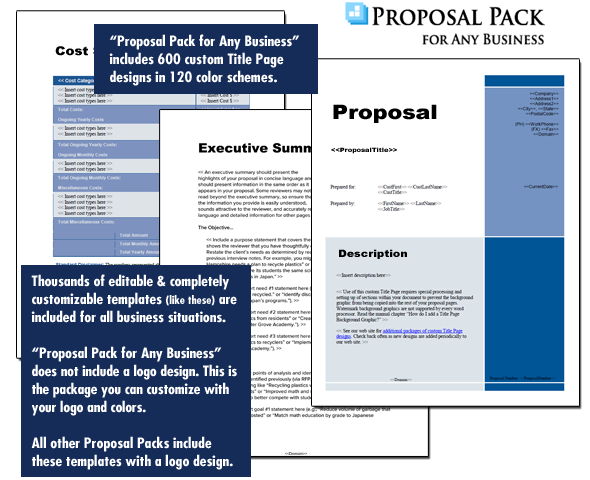 A proper business proposal will include multiple chapters. This is just one of many chapters that may be included in your proposal. The complete fill-in-the-blank template is included in our Proposal Pack template collections. A variety of sample proposals illustrating how companies in different industries both large and small have written proposals using our Proposal Packs are also included. This template will show you how to write the Dependencies.
A wide variety of chapters are included and are intended to be picked based on your needs. All proposals are different and have different needs and goals. Pick the collection of chapters from our collection and organize them as needed for your proposal. Recommendations and samples provided are only intended as general guidelines.
Using the Proposal Pack template library you can create any kind of business proposal, report, study, plan or document
such as these
.
How do you write a Dependencies document?
Use this template to describe any dependencies your project may have. Dependencies can be almost any sort of link or association in which change in one area may cause change elsewhere. For example in the case of software project one programming module may rely on other modules so that change to one will cause different results in others. Schedules often have many different dependencies in that failure to meet an early deadline may have ripple effect throughout the entire schedule. complex project may have many dependencies on outside entities including the processing of permits and contracts stability of political and economic states timely delivery of imported materials and so forth. For construction projects even weather may be dependency. Introduce the topic of dependencies for your project here and describe in general how your project may be affected by changes. Then discuss specific dependencies below. Description of Dependency #1 e. g. " Automated mail routine draws from customer database" or " County funds are dependent on local real estate values. " Describe how the dependency affects your project. For example using the example dependencies cited above you might say " Our automated mail routine sends out ads on quarterly basis using all the address records in the customer database. Thus the effectiveness of our bulk mailings will depend on the accuracy of the customer records. Jon Stevens manages our customer database. " Or " Ten years ago county funds increased dramatically because local real estate values skyrocketed. However last year our funds were cut by 20% because of the decrease in tax revenues from foreclosed properties and we had to adjust funding for this project accordingly. Thus our ability to fund this county project may change from year to year. " Include all relevant information such as how changes are communicated and the names of responsible parties. Description of Dependency #2 Describe how the dependency affects your project.
Description of Dependency #3 Describe how the dependency affects your project.
A Document from Proposal Pack

The editable Dependencies template - complete with the actual formatting, layout and graphics is available in the retail Proposal Packs.