This chapter template is included in every Proposal Pack along with thousands more chapter templates.
Order and download for $79.

DOWNLOADABLE, ONE-TIME COST, NO SUBSCRIPTION FEES
Use this template to describe your plan to distribute and/or install a system.
make the whole process flow together into a very professional and eye-catching proposal. Every time I have submitted a proposal, I have had someone either ask me who prepared the proposal for me or compliment me on how nicely the proposal was done."
Dr. K.G. Parsons
CEO, Aging Hearts Assoc.
Produced by:
Proposal Kit
Category:
Software › Computer Software › Business & Productivity Software

4.9 stars, based on over
780 reviews
Alternate chapters are those which may be used instead of this chapter depending on your situation. Alternate chapters may be better suited for different size projects, more specialized projects, variations on rights, etc.

Alternate Chapters:
Related chapters may be used in conjunction with this chapter depending on your situation. Many related chapters are intended to be used together to form a more complex and integrated proposal.

Related Chapters: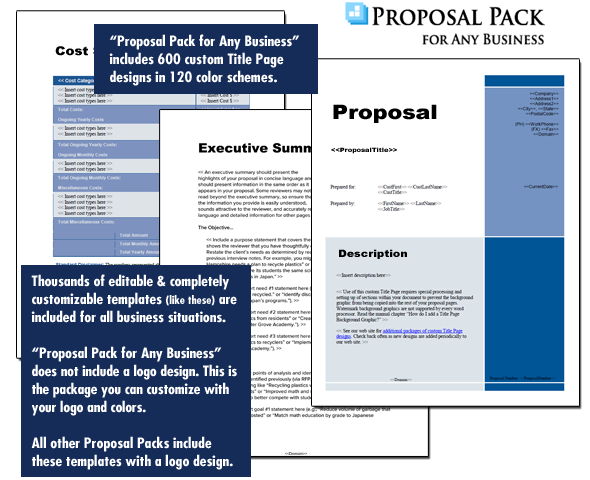 A proper business proposal will include multiple chapters. This is just one of many chapters that may be included in your proposal. The complete fill-in-the-blank template is included in our Proposal Pack template collections. A variety of sample proposals illustrating how companies in different industries both large and small have written proposals using our Proposal Packs are also included. This template will show you how to write the Deployment.
A wide variety of chapters are included and are intended to be picked based on your needs. All proposals are different and have different needs and goals. Pick the collection of chapters from our collection and organize them as needed for your proposal. Recommendations and samples provided are only intended as general guidelines.
Using the Proposal Pack template library you can create any kind of business proposal, report, study, plan or document
such as these
.
How do you write a Deployment document?
We have carefully planned the deployment of item to be deployed so as to minimize downtime and disruption to normal operations. Use this template to describe your plan to distribute and or install system. Description of Items to Be Deployed Insert summary here of the item you need to distribute. This description might contain list of hardware such as network servers and printers or list of software programs that must be installed on computer network. Pre Deployment Tasks
Insert description here of any tasks that need to be completed before beginning deployment. This might include backing up servers rearranging furniture or remodeling rooms notifying or training employees and so forth. Deployment Schedule Date Insert the dates or time span of the deployment. Hours. Insert the hours during which deployment will take place. Personnel Involved in Deployment List the names of the people that are needed to participate in the deployment. Operations Affected by Deployment
Describe any operations that will be shut down or otherwise affected by deployment. For example when installing hardware or software an entire network may need to taken offline. Post Deployment Tasks Describe any tasks that must take place after successful deployment. These might include employee training resetting of individual computers removal of old equipment etc.
A Document from Proposal Pack

The editable Deployment template - complete with the actual formatting, layout and graphics is available in the retail Proposal Packs.