This chapter template is included in every Proposal Pack along with thousands more chapter templates.
Order and download for $79.

DOWNLOADABLE, ONE-TIME COST, NO SUBSCRIPTION FEES
Use this template to describe the launch of a new company, a new product or service offering from an existing company, or the startup of a new system within your organization.
This product has saved us so much time and energy and helped us produce professional extremely high quality proposals that look great. The upgrades are even better and it's obvious these guys have worked hard to make Proposal Pack Wizard even better and now I don't even have to hire a graphic designer so it's saving me even more money. I couldn't recommend this Pack more highly. Anyone putting out regular documentation, submissions, proposals, etc, would be nuts not to buy it."
Mich Gannaway
Business Development Manager at Morcodian Pty Ltd
Australia
Produced by:
Proposal Kit
Category:
Software › Computer Software › Business & Productivity Software

4.9 stars, based on
830 reviews
Alternate chapters are those which may be used instead of this chapter depending on your situation. Alternate chapters may be better suited for different size projects, more specialized projects, variations on rights, etc.

Alternate Chapters:
Related chapters may be used in conjunction with this chapter depending on your situation. Many related chapters are intended to be used together to form a more complex and integrated proposal.

Related Chapters:
This template is illustrated in actual use in the following Sample Proposals. Samples are also included in each Proposal Pack and illustate many of the industries and situations this template can be used for: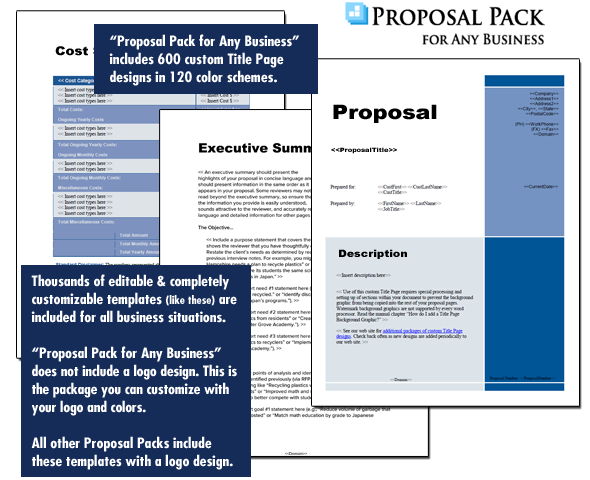 A proper business proposal will include multiple chapters. This is just one of many chapters that may be included in your proposal. The complete fill-in-the-blank template is included in our Proposal Pack template collections. A variety of sample proposals illustrating how companies in different industries both large and small have written proposals using our Proposal Packs are also included. This template will show you how to write the Launching.
A wide variety of chapters are included and are intended to be picked based on your needs. All proposals are different and have different needs and goals. Pick the collection of chapters from our collection and organize them as needed for your proposal. Recommendations and samples provided are only intended as general guidelines.
Using the Proposal Pack template library you can create any kind of business proposal, report, study, plan or document
such as these
.
How to write my Launching document
The plans for launching insert what will be launched are as follows. Use this template to describe the launch of new company new product or service offering from an existing company or the startup of new system within your organization. For new company or new offering to the public " launch" may be public relations event that includes press releases press conferences and big celebration as well as other business activities that take place behind the scenes. For an in house initiation of new system or structure " launch" may also include switch from one set of procedures to another or transfer of responsibilities from some individuals or groups to others. Introduce the topic of your launch here. What is your goal for the launch. Generally the goal for launch is to make specific audience aware that an event is happening. You may want to include description of previous events and discussions that led up to this launch event. Pre Launch Considerations If there are activities that must be completed before the launch discuss those here. For example you may need to post advertisements or distribute an in house memo write and distribute press release reserve party venue issue invitations or stop other activities before the launch can take place. Include all those details here. The Launch Describe what will happen during the launch. Be sure to include all the details. Depending on the type of launch these could include speakers venue information schedules entertainment system startups menus anything your audience should know. Be sure to give them all the information they need about what to expect and the time period in which to expect it. Include any necessary notifications about disruptions to normal procedures during this time period. Post Launch Considerations Describe what you expect to happen after the launch. Will some individuals or groups have new duties. Will there be need for updates to the media. Do you expect an increase in sales or business activity. Be as specific as possible including names of responsible parties and time frames when you can.
A Document from Proposal Pack

The editable Launching template - complete with the actual formatting, layout and graphics is available in the retail Proposal Packs.