This chapter template is included in every Proposal Pack along with thousands more chapter templates.
Order and download for $79.

DOWNLOADABLE, ONE-TIME COST, NO SUBSCRIPTION FEES
Use the Early Adoption template to discuss any topic concerning early adoption - the acceptance of a new technology or a new way of doing something. Early adopters generally experience higher costs and higher risks, but may also gain bigger payoffs, such as becoming the leader in their field.
You guys are great! You have good quality stuff and your policies for downloading/re-downloading are more than fair!"
Ken Russo
Produced by:
Proposal Kit
Category:
Software › Computer Software › Business & Productivity Software

4.9 stars, based on
830 reviews
Related chapters may be used in conjunction with this chapter depending on your situation. Many related chapters are intended to be used together to form a more complex and integrated proposal.

Related Chapters: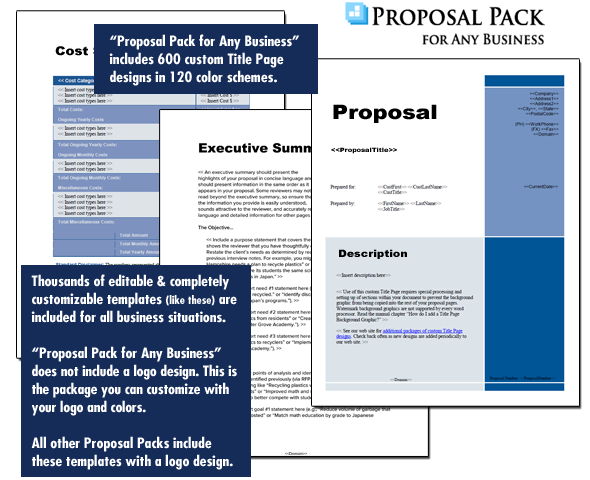 A proper business proposal will include multiple chapters. This is just one of many chapters that may be included in your proposal. The complete fill-in-the-blank template is included in our Proposal Pack template collections. A variety of sample proposals illustrating how companies in different industries both large and small have written proposals using our Proposal Packs are also included. This template will show you how to write the Early Adoption.
A wide variety of chapters are included and are intended to be picked based on your needs. All proposals are different and have different needs and goals. Pick the collection of chapters from our collection and organize them as needed for your proposal. Recommendations and samples provided are only intended as general guidelines.
Using the Proposal Pack template library you can create any kind of business proposal, report, study, plan or document
such as these
.
How do you write a Early Adoption document?
Use this template to discuss any topic concerning early adoption—the acceptance of new technology or new way of doing something. Early adopters generally experience higher costs and higher risks but may also gain bigger payoffs such as becoming the leader in their field. This template could be used to make an internal company pitch for taking chance on new technology as way to get ahead of competitor or enter new market. It could also be part of product or service pitch from company offering customers chance at first crack at getting into new technology. Or this could be cautionary or evaluation topic warning about the risks of being an early adopter and recommending waiting for the next version or iteration. Note that Proposal Pack contains the following templates you can use to round out your discussion of early adoption. State of the Art Evolution Future Potential and Next Generation topics. Provide description here of the new technology or methodology under consideration. Describe potential benefits and risks of early adoption. Be as specific as possible and account for all costs involved in switching to the new technology or method. These could include equipment costs costs of down time and training and much more. Also be sure to account for all risks involved. Make your recommendations here.
A Document from Proposal Pack

The editable Early Adoption template - complete with the actual formatting, layout and graphics is available in the retail Proposal Packs.