This chapter template is included in every Proposal Pack along with thousands more chapter templates.
Order and download for $79.

DOWNLOADABLE, ONE-TIME COST, NO SUBSCRIPTION FEES
The Cost/Benefit Analysis template can be used to show your client the expected benefits (usually in monetary form) to justify the cost of the project over time.
I purchased the Proposal Pack for Any Business in early July. It took just a few moments to download and I was up and running. I love the interface with MS Word and like the fact that it is already compatible with Word 2013, the most recent version of MS Office. Overall great product to use with lots of variety in title pages and easy to use starter proposal adaptable for any purpose."
Abigail Falcon Alverio
Produced by:
Proposal Kit
Category:
Software › Computer Software › Business & Productivity Software

4.9 stars, based on
821 reviews
Alternate chapters are those which may be used instead of this chapter depending on your situation. Alternate chapters may be better suited for different size projects, more specialized projects, variations on rights, etc.

Alternate Chapters:
Related chapters may be used in conjunction with this chapter depending on your situation. Many related chapters are intended to be used together to form a more complex and integrated proposal.

Related Chapters:
This template is illustrated in actual use in the following Sample Proposals. Samples are also included in each Proposal Pack and illustate many of the industries and situations this template can be used for: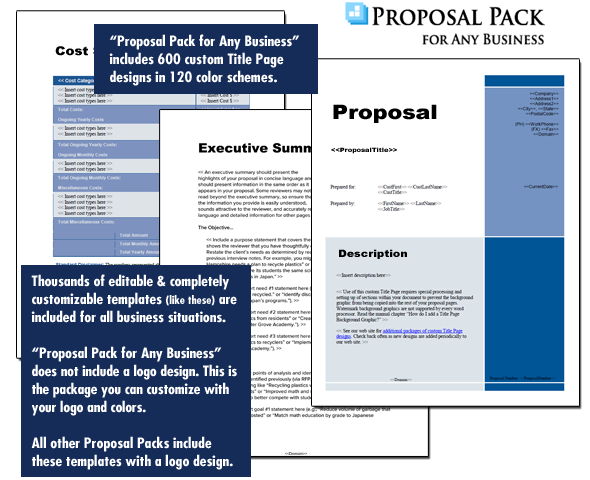 A proper business proposal will include multiple chapters. This is just one of many chapters that may be included in your proposal. The complete fill-in-the-blank template is included in our Proposal Pack template collections. A variety of sample proposals illustrating how companies in different industries both large and small have written proposals using our Proposal Packs are also included. This template will show you how to write the Cost/Benefit Analysis.
A wide variety of chapters are included and are intended to be picked based on your needs. All proposals are different and have different needs and goals. Pick the collection of chapters from our collection and organize them as needed for your proposal. Recommendations and samples provided are only intended as general guidelines.
Using the Proposal Pack template library you can create any kind of business proposal, report, study, plan or document
such as these
.
How to write my Cost/Benefit Analysis document
Included is the detailed cost benefit analysis for the project. The costs for the development operations and on going maintenance of the project vs. the benefits are summarized for year period. Description Year 1 Year 2 Year 3 Year 4 Year 5 Total Total Costs Benefits Net Ratio ROI If you have detailed cost benefit analysis data tables graphs graphics output from Cost Benefit Analysis software etc. include it here. Include the total project cost for time period and the total income expected to be generated and or saved during the period. This can be converted into the expected ROI Return on of the project. You should be able to show that the ROI is high enough to justify the project. If monetary ROI is low then the benefits should be tangible enough to show valid reason for developing the project. The Total Costs is the total cost of production operations and on going maintenance. The Benefits are the financial benefits to the customer such as income generated cost savings etc. The Net is the Benefits minus the Costs. The Ratio is the net divided by the Costs. The ROI is the Ratio times For example Total costs for year are $. Total benefits for year are $15 000. The Net is $5000. The Ratio is and the ROI is 50%
A Document from Proposal Pack

The editable Cost/Benefit Analysis template - complete with the actual formatting, layout and graphics is available in the retail Proposal Packs.