Use the Expression of Interest Letter template when writing to a company to express your interest in offering them your services such as being an employee. This type of letter is also called a Letter of Interest or a Prospecting Letter.
this product for years and the speed with which I am able to send out proposals is staggering due to this tool. I wholeheartedly recommend it to anyone."
Sean Bravener
Alpha Nerd and Associates
Produced by:
Proposal Kit
Category:
Software > Computer Software > Business & Productivity Software

4.9 stars, based on over
700 reviews
Related chapters may be used in conjunction with this chapter depending on your situation. Many related chapters are intended to be used together to form a more complex and integrated proposal.

Related Chapters: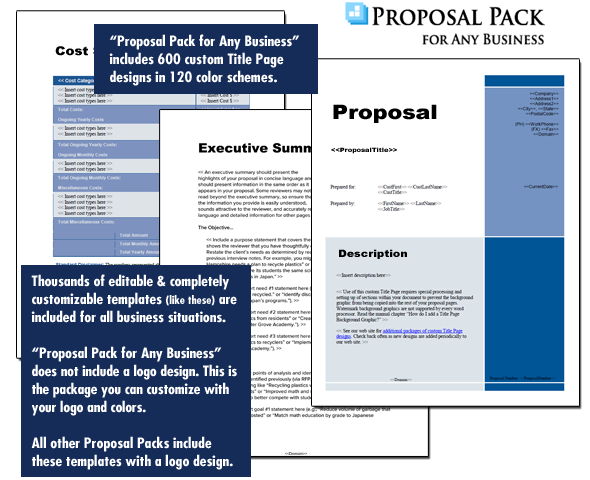 A proper business proposal will include multiple chapters. This is just one of many chapters that may be included in your proposal. The complete fill-in-the-blank template is included in our Proposal Pack template collections. A variety of sample proposals illustrating how companies in different industries both large and small have written proposals using our Proposal Packs are also included. This template will show you how to write the Expression of Interest Letter.
A wide variety of chapters are included and are intended to be picked based on your needs. All proposals are different and have different needs and goals. Pick the collection of chapters from our collection and organize them as needed for your proposal. Recommendations and samples provided are only intended as general guidelines.
Using the Proposal Pack template library you can create any kind of business proposal, report, study, plan or document
such as these
.
Writing the Expression of Interest Letter document
Current date First name Last name Job title Company name Address Address City State or province Zip or postal code Salutation Last name This type of letter is also called Letter of Interest or Prospecting Letter.
Briefly describe what caused you to write this letter. For example you might say " The article about your company in the Main Street Times on May was of great interest to me. was impressed by your organizations commitment to manufacturing environmentally friendly products. " Briefly state your unique position and relate it to the reader. For example you might say " As biochemist with expertise in creating biodegradable products believe have lot to offer company such as yours. ". Briefly state your credentials and or experience refer to any other documents you are enclosing or to an internet site that contains that and urge the reader to contact you. For example you might say " See the enclosed resume for descriptions of projects Ive worked on. When position that matches my skills and experience becomes available in your company please contact me at the number listed below. ". Sincerely First name Last name Job title Company name Phone number
E mail address Web site domain URL
A Document from Proposal Pack

The editable Expression of Interest Letter template - complete with the actual formatting, layout and graphics is available in the retail Proposal Packs.