Use this template to describe the ability for expansion or extension, otherwise known as extensibility.
your packs today and finished a business proposal in one day that would otherwise have taken me a week to do and the result was far more professional looking."
Marty Demarest
Produced by:
Proposal Kit
Category:
Software > Computer Software > Business & Productivity Software

4.9 stars, based on over
700 reviews
Related chapters may be used in conjunction with this chapter depending on your situation. Many related chapters are intended to be used together to form a more complex and integrated proposal.

Related Chapters: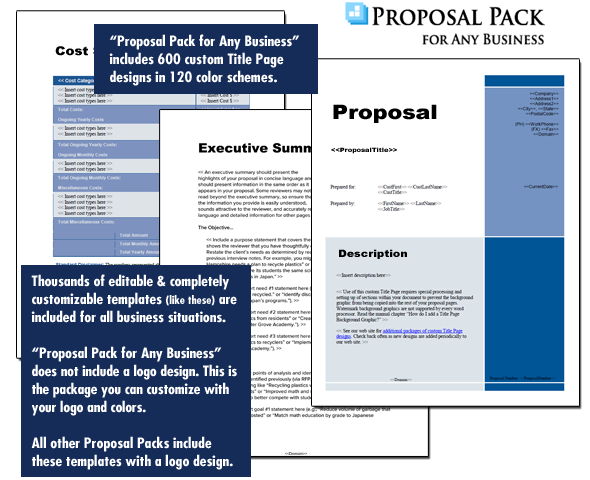 A proper business proposal will include multiple chapters. This is just one of many chapters that may be included in your proposal. The complete fill-in-the-blank template is included in our Proposal Pack template collections. A variety of sample proposals illustrating how companies in different industries both large and small have written proposals using our Proposal Packs are also included. This template will show you how to write the Extensibility.
A wide variety of chapters are included and are intended to be picked based on your needs. All proposals are different and have different needs and goals. Pick the collection of chapters from our collection and organize them as needed for your proposal. Recommendations and samples provided are only intended as general guidelines.
Using the Proposal Pack template library you can create any kind of business proposal, report, study, plan or document
such as these
.
Writing the Extensibility document
Use this template to describe the ability for expansion or extension otherwise known as extensibility. For example you might use this page to describe the ability to add extensions to computer system to increase functionality or to describe how additions could be joined to an existing building. Introduce the topic of extensibility here and discuss why it is important in the context of your proposal. For example does the system or product youre proposing to buy have built in connections for future extensions. Or do you need to design system for future additions. Then go on to discuss the various points of extensibility below. You might organize your extensibility topics by the additions e. g. " Additional Servers" or " New Pediatrics Wing" or by feature e. g. " Vacant Slots for Circuit Boards" or " Unused Tracks at Subway Rail Junction. " Extensibility Point #1 name of addition or feature that allows for Include details about this point here. For example you might want to describe how new modules could be added to current software system or how the current electrical panel allows for new circuits to be added. Extensibility Point #2 Include details about this point here. Extensibility Point #3
Include details about this point here. Insert your conclusion here.
A Document from Proposal Pack

The editable Extensibility template - complete with the actual formatting, layout and graphics is available in the retail Proposal Packs.