This chapter template is included in every Proposal Pack along with thousands more chapter templates.
Order and download for $79.

DOWNLOADABLE, ONE-TIME COST, NO SUBSCRIPTION FEES
Use the Financial Statement document to outline your basic financial information such as assets, income and liabilities. Depending on the type of proposal this may be personal or corporate financial statements.
This program is very easy to use and is written layman's terms. There are no difficult legal terms to figure out. I like this program and recommend it to anyone who wants to create a quick document for business purposes."
Willard E. Pretlow
E. P. Willard Business Systems Inc.
Produced by:
Proposal Kit
Category:
Software › Computer Software › Business & Productivity Software

4.9 stars, based on
837 reviews
Related chapters may be used in conjunction with this chapter depending on your situation. Many related chapters are intended to be used together to form a more complex and integrated proposal.

Related Chapters:
This template is illustrated in actual use in the following Sample Proposals. Samples are also included in each Proposal Pack and illustate many of the industries and situations this template can be used for: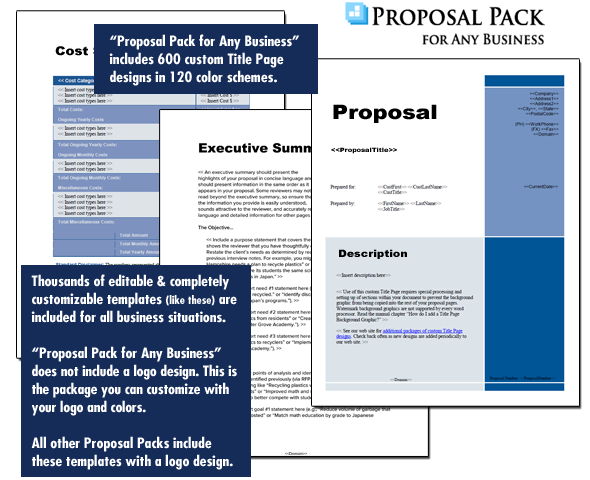 A proper business proposal will include multiple chapters. This is just one of many chapters that may be included in your proposal. The complete fill-in-the-blank template is included in our Proposal Pack template collections. A variety of sample proposals illustrating how companies in different industries both large and small have written proposals using our Proposal Packs are also included. This template will show you how to write the Financial Statement.
A wide variety of chapters are included and are intended to be picked based on your needs. All proposals are different and have different needs and goals. Pick the collection of chapters from our collection and organize them as needed for your proposal. Recommendations and samples provided are only intended as general guidelines.
Using the Proposal Pack template library you can create any kind of business proposal, report, study, plan or document
such as these
.
How to write my Financial Statement document
The following tables outline Company names financial statement. Describe the highlights of your financial statement to show where you are doing best and where improvement is planned. The financial statement can be for you personally or for your company depending on the requirements of the proposal. Line item descriptions used here are common items used for illustration purposes only. Add remove or edit line item descriptions as they apply to your situation. Name. First name Last name Address. Address Address City State or province Zip or postal code Phone. Phone number
Email. E mail address Business Name. Company name Financial Statement Current year Assets Current Assets Cash Insert Accounts Receivable Insert Investments Insert List all other assets. Insert Total Current Assets Sum Fixed Assets Long Term Assets Equipment Insert Minus Depreciation Insert Real Estate Insert Intangible Assets Insert List all other fixed assets. Insert TOTAL ASSETS. A. Sum Liabilities Accounts Payable Insert Taxes Payable Insert Line of Credit Insert Accrued Payroll Insert List all other liabilities. Insert TOTAL LIABILITIES. L. Sum Sources of Income Salary Insert Investment Income Insert Real Estate Income Insert List all other income. Insert TOTAL INCOME. I. Sum Notes Payable to Banks and Others. Creditor Balance Payment Frequency How Secured Totals. $ $ N A N A Stocks and Bonds. Security Shares Cost Value Date Totals. $ $ N A Real Estate. Property Cost Current Value Owed Monthly Payment Totals. $ $ $ $ If you require more information on creating financial statement consult your accountant or other financial information resources.
A Document from Proposal Pack

The editable Financial Statement template - complete with the actual formatting, layout and graphics is available in the retail Proposal Packs.