This chapter template is included in every Proposal Pack along with thousands more chapter templates.
Order and download for $79.

DOWNLOADABLE, ONE-TIME COST, NO SUBSCRIPTION FEES
Use the Repayment Plan document to outline how you plan to repay your loan. A lender will want to know you have taken into account having the ability to repay your debts.
Love the automatic formatting and the document management. With so many content examples, we feel like we never have to start from scratch or reinvent anything. It's made our lives very easy."
Alex Sousa
Public Relations Manager
Relic Agency
Produced by:
Proposal Kit
Category:
Software › Computer Software › Business & Productivity Software

4.9 stars, based on
824 reviews
Alternate chapters are those which may be used instead of this chapter depending on your situation. Alternate chapters may be better suited for different size projects, more specialized projects, variations on rights, etc.

Alternate Chapters:
Related chapters may be used in conjunction with this chapter depending on your situation. Many related chapters are intended to be used together to form a more complex and integrated proposal.

Related Chapters:
This template is illustrated in actual use in the following Sample Proposals. Samples are also included in each Proposal Pack and illustate many of the industries and situations this template can be used for: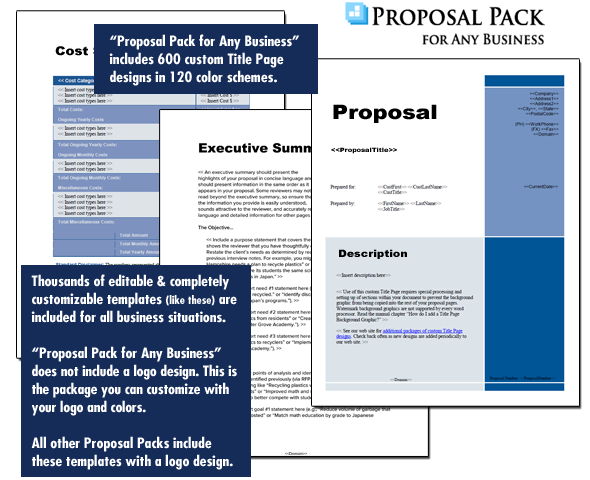 A proper business proposal will include multiple chapters. This is just one of many chapters that may be included in your proposal. The complete fill-in-the-blank template is included in our Proposal Pack template collections. A variety of sample proposals illustrating how companies in different industries both large and small have written proposals using our Proposal Packs are also included. This template will show you how to write the Repayment Plan.
A wide variety of chapters are included and are intended to be picked based on your needs. All proposals are different and have different needs and goals. Pick the collection of chapters from our collection and organize them as needed for your proposal. Recommendations and samples provided are only intended as general guidelines.
Using the Proposal Pack template library you can create any kind of business proposal, report, study, plan or document
such as these
.
How do you write a Repayment Plan document?
Company name will start repaying the loan on insert start date in installments per the repayment plan outlined below. Summarize your cash flow analysis to show that income and expenses will allow the repayment plan to be met successfully. There is separate Cash Flow Analysis template for more comprehensive cash flow analysis you should also include. Describe how you plan to repay your loan including where the money will come from when payments will be made and for how long. You may also need to complete additional financially related documents such as credit history report personal financial statement balance sheet cash flow analysis profit and loss statement etc. lender will want to see you have well thought out plan to pay them back. Repayment Sources. Payment Source cash income investment income etc. Payment Source cash income investment income etc.
Payment Source cash income investment income etc. Payment Schedule. Describe the payment schedule including when payments will be made how much the payments will be interest rates and how long the payments will continue. There are many types of repayment plans such as fixed monthly payments extended monthly payments longer duration but with higher overall interest graduated payments lower to start with then gradually increasing income contingent payments payments are adjusted based on current income etc.
A Document from Proposal Pack

The editable Repayment Plan template - complete with the actual formatting, layout and graphics is available in the retail Proposal Packs.