This chapter template is included in every Proposal Pack along with thousands more chapter templates.
Order and download for $79.

DOWNLOADABLE, ONE-TIME COST, NO SUBSCRIPTION FEES
Use the Investigation template to describe an investigation. The term 'investigation' generally means an inquiry or examination to determine the facts of a situation.
I purchased the Proposal Pack for Any Business in early July. It took just a few moments to download and I was up and running. I love the interface with MS Word and like the fact that it is already compatible with Word 2013, the most recent version of MS Office. Overall great product to use with lots of variety in title pages and easy to use starter proposal adaptable for any purpose."
Abigail Falcon Alverio
Produced by:
Proposal Kit
Category:
Software › Computer Software › Business & Productivity Software

4.9 stars, based on
824 reviews
Alternate chapters are those which may be used instead of this chapter depending on your situation. Alternate chapters may be better suited for different size projects, more specialized projects, variations on rights, etc.

Alternate Chapters:
Related chapters may be used in conjunction with this chapter depending on your situation. Many related chapters are intended to be used together to form a more complex and integrated proposal.

Related Chapters: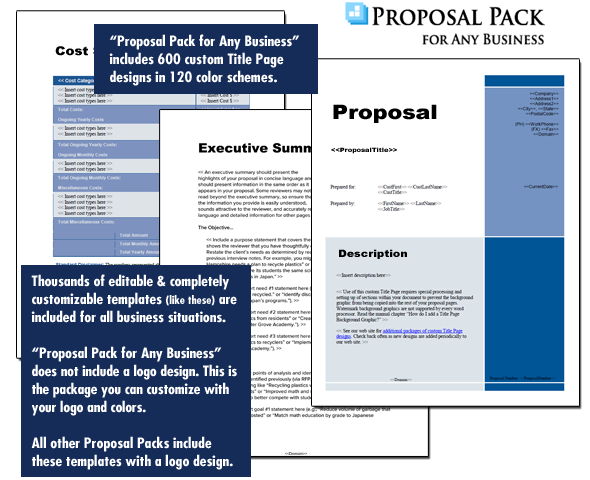 A proper business proposal will include multiple chapters. This is just one of many chapters that may be included in your proposal. The complete fill-in-the-blank template is included in our Proposal Pack template collections. A variety of sample proposals illustrating how companies in different industries both large and small have written proposals using our Proposal Packs are also included. This template will show you how to write the Investigation.
A wide variety of chapters are included and are intended to be picked based on your needs. All proposals are different and have different needs and goals. Pick the collection of chapters from our collection and organize them as needed for your proposal. Recommendations and samples provided are only intended as general guidelines.
Using the Proposal Pack template library you can create any kind of business proposal, report, study, plan or document
such as these
.
How to write my Investigation document
Use this template to describe an investigation. The term investigation generally means an inquiry or examination to determine the facts of situation. Introduce the purpose of this document here and explain why this investigation is important to your proposal. Current Situation Describe the situation that requires investigating and explain the purpose that an investigation would serve. Goals Describe the goals of the investigation. You may have both immediate and long term goals you hope to accomplish. Process Describe the process that you are proposing for investigation. Be as specific as possible about the personnel and resources that the investigation will require. You may also need to discuss schedules locations deadlines budget or procedures to follow.
Results Describe how when and to whom results will be reported. Add summary statement here if needed. For example you may want to explain the next step after results of the investigation are reported. Web site domain URL
A Document from Proposal Pack

The editable Investigation template - complete with the actual formatting, layout and graphics is available in the retail Proposal Packs.